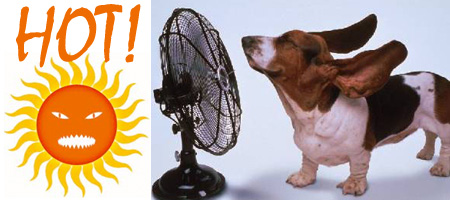 Wow, it's hot in Fort Worth!  It's interesting to see the weatherman compare the actual temperature in downtown Fort Worth, Watauga, Keller, Roanoke, vs. North Richland Hills . . . other than a degree here or there, we're all just H-O-T!
Just like your home unit, you are probably running your car's air conditioner non-stop and on full blast!  Don't suffer in your car during these long summer days, especially with school about to start or on that last summer road trip.   A properly recharged and fully functioning air conditioning system will maximize your comfort while minimizing your gasoline usage.
Get an A/C check!  Our fully trained and factory authorized technicians can run an air conditioning performance test.  This test includes:
Air Conditioning System Check with Gauges
Temperature Test  at All Outlets
Inspection with Leak Detection Equipment
Cooling System Inspection
Inspection of Belts and Hoses
* Safety reminder:  it's too hot in any car to leave a child or a pet unattended in your vehicle, even if you crack the windows.  Let's be smart in caring for those for whom we care the most!  Stay cool!!