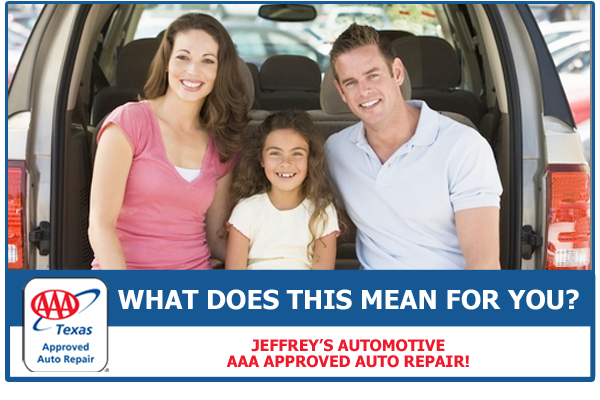 The AAA Approved Auto Repair program (AAR) was established in 1975 to address one of the most frequent consumer complaints: unsatisfactory automobile repairs.
The AAA Approved Auto Repair program refers AAA members and other consumers to facilities that meet and maintain high professional standards. Today, there are approximately 8,000 AAA Approved Auto Repair facilities in the U.S. and Canada.  Jeffrey's Automotive is proud to be on that list!
AAA Approved Auto Repair facilities
AAA Service Specialists perform stringent reviews of each facility on a regular basis.  All AAA Service Specialists have an Automotive Service Excellence (ASE) certification, along with an extensive background in automotive service in order to address the following:
Inspection of the facility for cleanliness and proper tools
Verification of adequate technical training and appropriate technician certifications
Service Satisfaction Survey of facility customers to obtain their opinions on how well the facility meets their automotive service needs
Insurance and financial background checks
A committee of AAA club officials makes the final decision as to whether a facility receives approval to become a AAA Approved Auto Repair facility.
Customer satisfaction
AAA members and non-members can feel confident that AAA Approved Auto Repair facilities are reliable and trustworthy:
Customers are provided with a written estimate of the cost of all work to be performed
12-month/12,000-mile parts and labor guarantee of service on mechanical repairs by the facility
Replaced parts are returned to customers, upon request
AAA members receive the added benefit of:
Many AAA AAR facilities offer AAA members a 10 percent discount (up to $50) on regularly priced parts and labor through the AAA Show Your Card & Save® discount program
If a AAA member is unsatisfied with the service or repairs received at a AAA Approved Auto Repair facility, the facility has agreed to accept the decision instructed by AAA in order to correct the member's concern.
At Jeffrey's, we are proud to wear this seal of approval from AAA!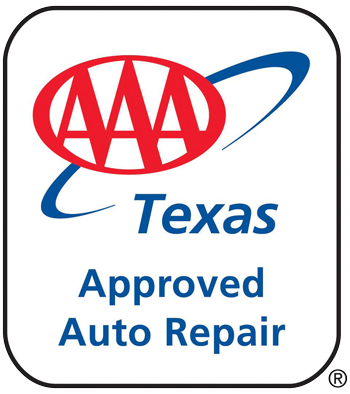 Servicing all of Tarrant County!
NRH, Watauga, Keller, Southlake, Mid-Cities

Call us today:
817-485-7340
Address:
5913 Denton Hwy
Watauga, TX 76148
Hours of Operation:
7:30am - 5:30pm
Monday - Friday