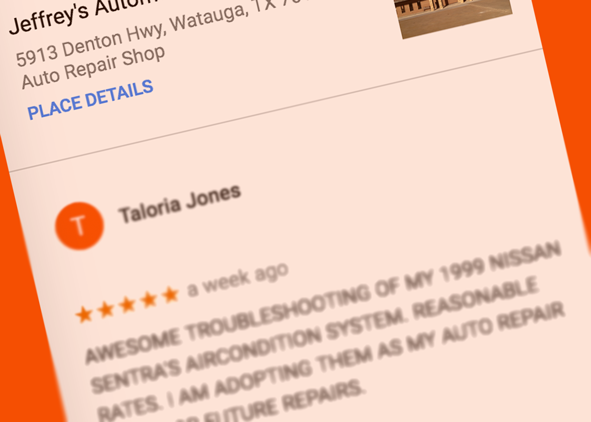 We love our customer reviews. While a few reviews express suggested areas where we can improve, we obviously love reviews where customers tell us what a positive experience they had. We know there are many choices in auto repair in this large city. People can find a mechanic on every corner, but we remain humbled that customers drive from all over Tarrant County so that we can work on their vehicles.
Recently, Taloria Jones brought us her Nissan. In Texas, when we are experiencing TRIPLE-DIGIT HEAT, is no time for there to be problems with your car's air conditioning. So we were thrilled to receive this generous word of appreciation from Ms. Jones (ALL CAPS are hers straight from the review she left us on Google):
"AWESOME TROUBLESHOOTING OF MY 1999 NISSAN SENTRA'S AIRCONDITION SYSTEM. REASONABLE RATES. I AM ADOPTING THEM AS MY AUTO REPAIR SHOP FOR FUTURE REPAIRS."
We hear this sentiment all the time from customers who find Jeffrey's Automotive to be a place they can trust. We have been in business for 38 years and we have seen our share of customers. We aren't perfect, but we try our very hardest to serve all of our customers in the same way we did Ms. Jones.
If you also have a Nissan with some AC trouble, give Jeffrey's a call or click for an appointment.
CALL: 817-485-7340
APPOINTMENT: click here to schedule online