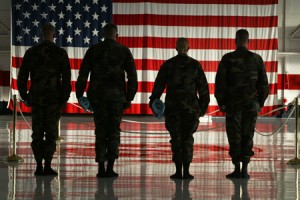 HONORING OUR MILITARY
We thank you for your service to our country!
At Jeffrey's Automotive, we are so thankful for our troops!  We honor the service of military, active and reserve.  We express our appreciation for the sacrifice you and your families make each and every day.  Our country is indebted to you for your service.
If you are an active or reserve member of any branch of the armed forces come see  us and receive a 10% discount on any labor charge. This is our way of saying "Thank You!" during the month of May!
In May, we  celebrate Memorial Day, remembering those who have paid the ultimate price for our freedom and liberty.  Also, marking the beginning of summer, you need to think about your vehicle:
Does your vehicle need A/C service to battle this summer's HOT temperatures?
Does your car need an alignment to make your tires last longer?
Are your brakes going to keep you and your family safe on the road?
We recognize that you have a choice in automotive repair and we want to help you continue choosing Jeffrey's for all of your maintenance needs and repair.  WE CAN FIX IT!
When you come in for any repairs or maintenance, every car receives a 25-point courtesy inspection. Our job is to keep you safe on the road.  If you have need of repair or maintenance, we can fix it!