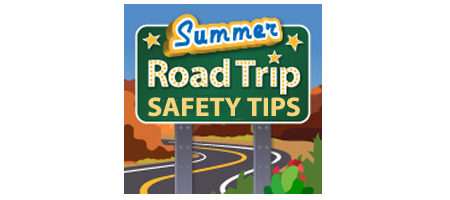 It's almost end of summer – school begins in a few weeks for most kids in the Fort Worth schools.  Some of you may be thinking of a last-minute family vacation – so are you road-trip ready?
Here are a few simple things to check:
Tires – check inflation to ensure the best gas mileage – also, when was the last time you rotated them?
Alignment – if you're putting hundreds (or even thousands if you are headed to either DisneyLand in CA or DisneyWorld in FL) of miles on your car this trip, a proper alignment will help your tires last longer.
Brakes – seriously, if you are driving late at night (you know, while the kids are quiet because they sleeping in the car), you want to make sure your brakes are at their very best in case of a need for a sudden stop – and even though it's not raining much here in Texas right now, you may encounter wet roads along your trip.  A quick brake check may be enough to give you the confidence that nothing is needed – but sometimes, you just might need to get something replaced for the safety of your family.
A/C – if you are going anywhere in Texas on your last-minute summer excursion, a strong air conditioner is essential!  Even if you're in the car for just a few hours, who needs more complaints from the back seat that it's too hot!
Fluids – top off all your fluids and ensure there are no leaks.
Oil Change / Filter – Maintenance is SO important.  Make sure you are running at optimum performance.
Lights – do a quick inspection before you head out that all your brake lights, blinker light, etc are functioning properly.  Not only is it safer for other drivers, you would hate to get pulled over on vacation due to a missing brake light (the kids would never let you live it down!)
Emergency preparedness – not a bad idea to ensure you have what you need to take care of yourself in the event of a breakdown in the middle of nowhere.  A first aid kit may be an additional quick buy at the store and don't forget to inspect your spare tire (that you never look at) – Make sure it's ready if called upon.  You may also want to have some key phone numbers handy, or even Google a mechanic shop along your route in the event you need one.  And of course, in this Texas heat, you want to ensure your family has plenty of water in the car in case you are stuck on the side of the road for any length of time (also comes in handy in case of engine overheating).
There may be other areas to tackle as well, but these are some of the highlights – you might also check out "Car Care Tips".  Click the "Make an Appointment" button on the sidebar of this site and we'll get you in and out so that you are safe on the road!
Happy travels from Jeffrey's Automotive!