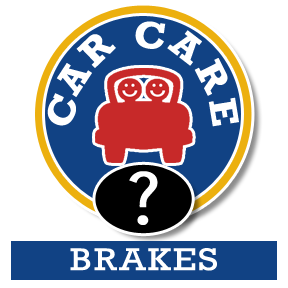 We are launching a new series called "Car Care Question" – where we answer some of the basic car care questions we hear from customers in our shop or on our Facebook page.
Today, we are talking brakes.  Specifically, the brake check.
Most dealerships charge up to $40 just for an routine inspection of your brakes.
One popular chain store offers a free brake check with the following conditions:
It's free

ONLY

if you subsequently have to make repairs to your brake system
Or you are

REQUIRED

to be a member of their rewards program
At Jeffrey's, your brake check is FREE.  No strings.  No conditions.
It's important to check the vehicle's braking system at least once a year.  A thorough inspection should include brake lining wear, brake fluid level, rotor thickness, condition of hoses and brake lines, brake and dash warning lights, as well as taking the car for a test drive to detect other potential brake system problems.   If you hear grinding or squealing noises, be sure and have your brakes inspected.  (Some noises are not necessarily an indication that your brakes need replacing, so don't worry.)
Here are the features of a FREE brake check at Jeffrey's:
We pull all 4 wheels off
We inspect all hydraulics, fluid, and hardware.
We offer a complimentary vehicle inspection to diagnose any other safety issues (check all your belts, hoses and fluids)
One of our ASE certified technicians will test drive your vehicle
We will then offer you a full explanation of your brakes, offering recommendations if necessary (we'll even take you to the back and show you what we mean)
After the brake inspection is complete, you'll receive 1 of 3 results:
A good report indicating that your brakes are in satisfactory condition,
A detailed explanation of the longevity of your current brake system, indicating how much wear you have remaining (anything below 20-30% will need repairs to be safe)
A clear estimate of the cost of parts and labor to repair your brake system so you'll leave safe on the road!
If you regularly run car-pool for several kids after school, a brake check provides peace of mind.
If you're daughter likes to drive around with her friends on the weekend in Fort Worth, a brake check ensures she's safe.
If you're vehicle regular hauls heavy loads or travels extensively for work, a brake check means there won't be any scary surprises in inclement weather.
At Jeffrey's, our job is to keep you safe! Click the button below to set up your appointment today for your FREE brake check.