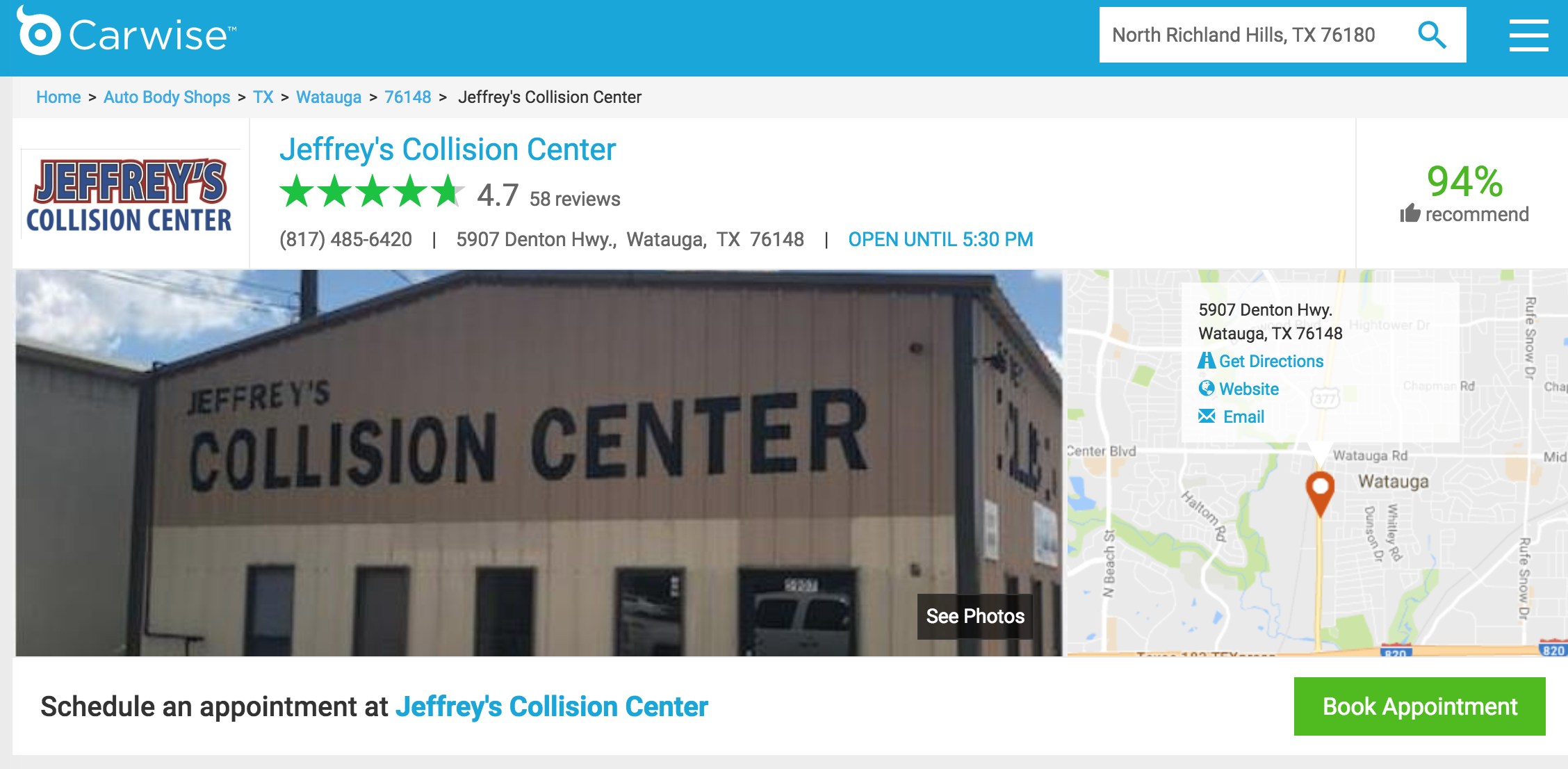 When you are needing a body shop or collision center after hail repair or a small collision, you want to choose a collision center that is getting strong reviews from its customers.
Here are some of the things people are saying about Jeffrey's Collision Center in Watauga, TX:
"My Experience Awesome job by Andy, Don … and the technician who removed the coins from the CD player and brought it back to life! Another excellent job at great value! My go-to auto repair shop – without question."
"Outstanding job! Quality work at a very reasonable price. Who could ask for more?"
"I give Jefferies [sic] a thousand stars. Once I dropped off my car, they took care of everything for me. Handling the issues with the insurance company to getting me a rental car. They were wonderful. They fixed my car in a timely manner and it looked great. I recommend them to everyone."
"Everyone's very friendly at Jeffrey's Collision Center! Specially Andy and Don also Juanita, thanks for the help repairing my Toyota! I really appreciated!!!"
"Everyone invloved in the process of fixing my car were great. They went above and beyond to make sure not only that my car looks great but drives great again as well. They even detailed my car and washed it! Hasn't looked so good and hasn't driven so good since I took it off the lot. Big thanks to Andy and Don and everyone else involved. I'll never take my car anywhere else after my experience with Jefferys."
"I have told my friends and family about this place already"
"My car looks brand new I was very pleased with the service and the attention they gave me. Will definitely recommend anyone to visit them for any car troubles."
"Jeffrey's is realistic and fair with their prices and do a fantastic job! If I ever need body work done in the future I will go to Jeffrey's"
Call (817) 485-6420 if you are needing a body shop!