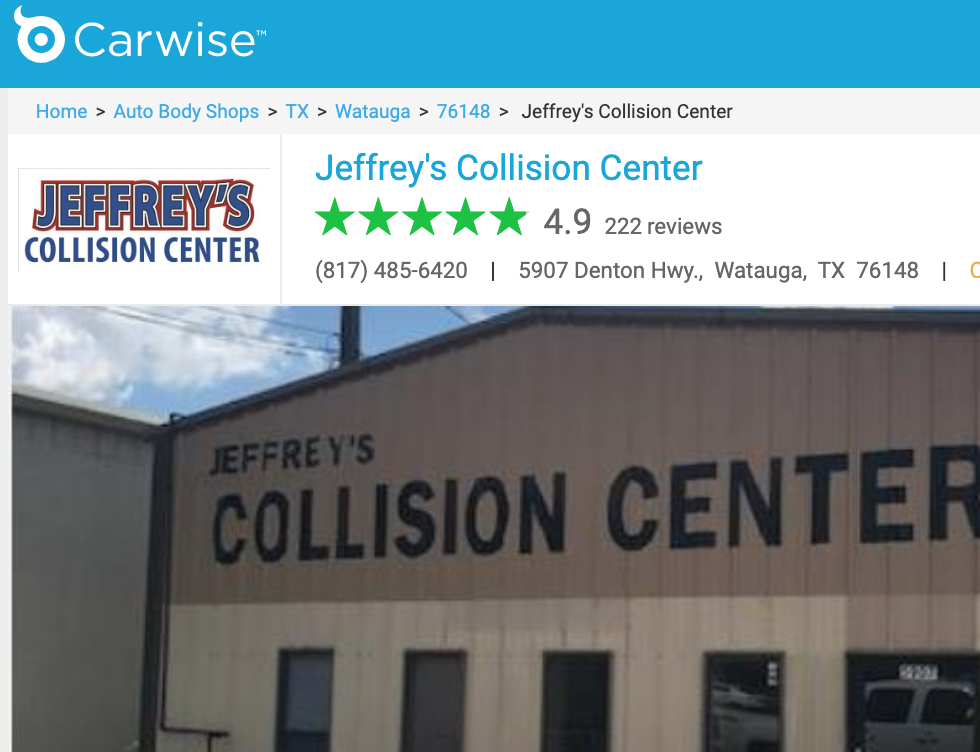 Here's a great review we received on Google in October:
"My boyfriend was looking for a place to fix his dent and a few scratches in his car. He went to one collision repair shop that quoted him 1500 to repair all his damages. He then went to Jeffrey's automotive and they told him to pull up into the shop, buffed his scratches and popped his dents out with no charge. 100% recommend coming here. Very honest business."
And yet another this month . . .
"
Jeffrey's Collision Center was referred to me by my brother. He has previously used them before and has nothing but good things to say about their work and employees. Instead of choosing somewhere closer to home, I took his recommendation and decided to make the 40 minute drive out to Jeffrey's to have my car fixed. Boy was it the best decision! Andy was very professional and took great care of me and my car. He was upfront with me about what my car needed and what it didn't really need in order to save me some money and he kept me updated along the way. Honesty is everything to me! I finally picked up my car yesterday and you can't even tell it was ever in a wreck! It looked like a brand new car! Needless to say, I was completely satisfied with the work and their service! Andy and his team are awesome! If you ever need repairs made to your car, Jeffrey's is the place! Ask for Andy! You won't be disappointed!!!"
Here are a few other comments about Jeffrey's Collision Center:
Repair Quality
They always are more than fair with estimates and final costs. The quality of the repairs are excellent.
Customer Service
The staff are always friendly and honest.
Customer Service
Very professional, quick, and helpful
My Experience
My Honda Accord came out looking brand new again!!! Thank you so much again for the wonderful customer service you guys provided! Thank you to the guys in the shop who worked on my car! Juanita, Andy, and Cesar thank you!!!