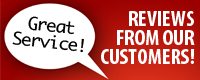 Yes, There's Even More Customer Reviews

____________
Joe Novak, 8/19/11, Fort Worth, via Demand Force
Thanks so much for getting rid of our check engine light! You folks are always very kind and efficient…Aubrey told me to let you know that she likes the bubble gum machine and when she comes in again she will be sure and have her quarters!
Brie Jewell, 8/18/11, North Richland Hills, 8/18/11, via Demand Force
My air compressor locked up which meant that my a/c stopped working, the engine started rattling, and a weird chemically smell began. I took my car in with out an appointment and had an answer to my problem and a quote (including labor and tax) in just 2 hours. I was impressed with the speed in which they got to my car even though I wasn't walking in with an appointment. Kevin was the one who helped me and he was great.
Adam Pendleton, 8/18/11, Fort Worth, via Demand Force
Very friendly, professional service. Cost was less than most places. Waiting area was clean and comfortable.
James Janisko, 8/18/11, Keller, via Demand Force
Phenomenal

Wonderful Service. Top notch professionals in every way. I hope nothing else brakes on my car, but I know where I'm going back to if it does. Danny, Kevin, and the whole crew at Jeffrey's have my utmost confidence. Great work. Keep it up guys.
Anonymous, 8/16/11, via Demand Force
Trustworthy people

All the employees provided great communication about my car. They told me exactly what is wrong and quoted me an exact price. My car is running great and it was fixed in a timely manner. Everyone was friendly too.
Shanna Brown, 8/16/11, Keller, via Demand Force
Great work!

Got a coupon from discount tire for a free alignment check. they checked it and did the job for $45 bucks. Great choice over the dealership anyday!
Kevin Middleton, 8/16/11, Keller via Facebook
I recently had my Yukon XL repaired by Jeffreys due to not passing Emissions testing for State inspection, and I was pleased with my service and cost for the repair. Service Manager Jerry Maxey did a complete good service job in listening to my issue for repair and in keeping me informed thru the process. Until time to pick up my truck. I had a exhaust Cat go bad and needed replacement and the recommended Fuel system flush was accomplished after Jerry consulted with me about the importance of this maintenance. We are pleased with the results and wanted to say Thank you to all at Jeffreys Automotive for a Job well done. We will be recommending you guys to all our friends.
Adam James, 8/16/11, Haltom City via Demand Force
Great work at a fair price. I won't go anywhere else.
Michele Evans, 8/15/11, Fort Worth via Demand Force
State inspection on vehicle

Called many repair facilities in the FW area to finally find one who still provides state inspections for older vehicles. Never been here before and I was impressed by their willingness to help me and quick service. I will be back for additional maintence requirments on my vehicle.
Dan Quinto, 8/13/11, Grapevine, via Demand Force
Dead car, towed to Jeffery's. I had tried new battery, jump start, etc. Jeffery's found the simplest and least expensive solution. I really like how they like to give customers good news and hate to give bad news.
Ralph and Yolanda Bringas, 8/12/11, Fort Worth, via Demand Force
Finding a good repair shop that you can trust is like finding a good doctor you can trust. When you do, you stay with him. So far no one else has worked on my 2000 pick-up truck except Jeffrey's and myself.
Donald and Joan Davis, 8/12/11, Fort Worth, via Demand Force
I brought my husband's truck in to be inspected. The agent that assisted me was very curtious. I also had questions about my personal car and he helped me with those. I always have a good exprience and will refer friends and family here.
Jim Powell, 8/10/11, Fort Worth, via Demand Force
Terrific Service

Need an honest opinion of what your vehicle needs? Jeffrey's Automotive is where you need to go. My two visits this year I went in expecting to be told that I needed expensive work done when in fact I ended up only paying the check out fee because the expected work wasn't necessary. Good, honest friendly service does exist.
Sandra Tatum, 8/9/11, Fort Worth
Your facility is good and clean. The owner is nice and Kevin and the mechanic fixed the problem that we came in for in a short time. Customer service is excellent. We waited only a few minutes and everything was explained to us. What sets you apart? Quality work, honest quotes and I was not taken advantage of because I am a woman who doesn't know much about cars!
Robert Walsea, 8/7/11, Hurst via Demand Force
Front End Alignment

So far everything appears to be good. Thank you for everything! Thank you for serving the Texas consumer community!
Cheryl Beauchamp, 8/5/11, Fort Worth via Demand Force
I had taken my truck to Firestone, for the same reason that I took it to Jeffrey's. Not only did Firestone NOT fix my truck, they didn't even seem to care when I took it back to complain that it hadn't been fixed. Not only did my mechanic, Jeremy fix my truck, they kept the old parts so I can take them back to try to get a refund. They stayed in touch with me the entire time they had my truck and apologized for how long it took to repair. Jeffrey's has a new customer, and I have been spreading the word. I definitely recommend them for anyone that needs their vehicle serviced. Thank You Jeffrey's!!
Anne Nunez, 8/5/11, Watauga
Very friendly, clean, good service…employees are friendly and always asked before they did something…customer service was great and they explained everything well.
Ronnie Lee, 8/5/11, Watauga via Demand Force
Fast, friendly service. Great bunch of guys @ front office.
James and Katie Shotts, 8/5/11, Keller via Demand Force
Great job!

As always Jeffrey's took care of us. They looked at our A/C and determined that the repair was most likely still under warranty and recommended that we take our car to the dealer to have it fixed at no cost. We would highly recommend using Jeffrey's Automotive.
David Dahns, 8/2/11, Keller, via Customer Lobby
Trustworthy and reasonably priced.

I've got a care with around 120,000 miles on it. It hasn't had a whole lot done to it, and it runs perfect, but it was time to get a number of general maintenance things done at that mile range. I hadn't dealt with Jeffrey's Automotive Supercenter before, so I had them check things out and give me prices on some of the things to feel them out a bit. They only recommended what I knew needed to be done, and the pricing was reasonable. The price wasn't great, but it wasn't poor, and it certainly was better than any dealership, so it was very reasonable. They didn't try to talk me into a lot of goofy or unnecessary things. As a matter of fact, I wanted transmission service, but they said I didn't need it. Same thing with the breaks. That's great! That's how I develop a relationship and learn to trust a place, and I was very impressed with this place. They did awesome!
Greg Stamps, 8/1/11, Fort Worth, via Demand Force
Outstanding!

Jeffrey's always take great care of me. The best thing is that I know they're honest and won't try to get me into unnecessary repairs.
Thomas Damron, 8/1/11, Fort Worth, via Demand Force
I would highly recommend this auto repair shop. Was sent by discount for a drill out on a lug nut and was treated quickly and politely. I will be back. Loved KLTY music and attitude of employees.
Adam Baugh, 7/31/11, Fort Worth, via Demand Force
They were very thorough with determining what was wrong with my truck. Even though they also found other things in need of repair, they respected my decision to wait on these repairs, and they were very honest about the long term consequences of not repairing the items. I was very impressed with the honesty and wonderful customer service from Jerry and the mechanic. Thank you Jeffrey's!
George Parrott, 7/30/11, Fort Worth, via Demand Force
Work was done in a very short time. Did not have to wait very long.
Law Domasig, 7/29/11, North Richland Hills, via Demand Force
It's been years now since we first came to Jeffrey's. Whatever was wrong with our vehicles has always been corrected in a timely manner at a fair price. We will continue to come especially since two of our three kids are now driving (our youngest will be driving in February). Thank you for your fast and friendly service!
Happy Customer, 7/28/11, via Angie's List
This was for a car inspection. I have had oil changes from them in the past as well as other repairs.
They are very friendly. They explain what they are going to do. If they need to do something extra they will call you and let you know. They are not a cheap place but they do great work. I have been going to them for a while.
Kenneth McKee, 7/27/11, Fort Worth, via Demand Force
Good job, fast service! Thanks!
Lana Murray, 7/25/11, Fort Worth, via Demand Force
Jeffrey's was recommended to me when I had engine problems due to not doing what I was supposed to and get my oil checked regularly. While I'm sure Kevin felt like giving me a good scolding, he was very helpful and explained what I needed and how much it would cost. On top of that, he gave me his card with a "free oil change" message on the back. He wanted to be sure I took care of things, I'm sure. I won't ever take my car to anyone else. A very belated thank you!
Roy Christensen, 7/19/11, Watauga, via Demand Force
Reliable and courteous service given
William Webb, 7/19/11, Fort Worth, via Demand Force
I can't say enough about my experience at Jeffrey's. The people are the most courteous and knowledgeable about your problem. They are quick to point out the options if there are any. Their prices are entirely reasonable, and my big surprise was that they fixed things that were unassociated with my main problem but which had been a pain to me for at least a year. They absolutely know their business and you won't find a finer group of people to trust your car with. I already HAVE referred your fine business to other folks and one thing I didn't mention was how much I (and my family) have enjoyed the messages on your sign. That same sign makes you so easy to find and great when describing your location. From the north, that sign stands out up past Watauga\Western Center. As I said initially, I have problems only with finding the words to describe your fine business. And I do not want any reward for this. You asked for and I gave you an honest assessment of my experience at your fine business. I'm still blown away with the extras I didn't expect but which you fixed and then didn't even tell me about. I wish you people the very best and I will see you again. I will return Willy Webb
Laura Mata, 7/16/11, Keller, via Demand Force
I had my transmission and fuel injection systems serviced on the same day. Jeffrey's service was professional, timely, and economical.
Joyce Thatch, 7/15/11 Watauga, via Customer Lobby
I love Jeffrey's Automotive Supercenter! They really make you feel like you're part of the family. It's the only place I'll go, I only trust them with my car, and it's been that way for seven years.

I don't have to worry when I go there. I know they won't overcharge me or do work that doesn't need to be done. They are the nicest people you'll ever meet! I highly recommend them to anybody!
Tina Cooper, 7/14/11, Fort Worth, via Customer Lobby
I had passed by Jeffrey's Automotive Supercenter a number of times before, but since it's across town from me, I took my car somewhere else, but my car kept experiencing issues after taking it to the other shop.

Jeffrey's kept flashing through my mind so I decided to take it to them. I'm glad I did! They were able to fix two major things for a lower price than the other shop had quoted to fix only one thing! After I got my car back, it was running even better!

I am so happy I went to Jeffrey's. I had such a good experience there, I'm hooked! They are thorough and knowledgeable. Also, they are so nice, everybody there is very friendly. And another thing about Jeffrey's, is that they are honest, which is hard to come by with mechanics. I have recommended them to many people, including my son! It's worth the drive across town for the great service we receive!
Jo-Len Schumski, 7/13/11, Benbrook, via Demand Force
As always good work

Thanks again for taking such good care of my vehicles. It's always reassuring to know that you keep our cars and trucks running safely.
David Dahns, 7/12/11, Keller, via Demand Force
I have a 2001 Chevy Suburban with 121k miles and it needed a lot of general maintenance done. I had scheduled for a front end alignment and asked that they please look my vehicle over for anything else they can see. They called to tell me the car was ready and had a list of things I should address. Everything on there list was items I knew I needed done already so that was a good sign. I went ahead and let them address each of the issues and after 3PM the next day all of the work was done. Approx $1200.00 worth. I then took the car on a 6 day 900 mile road trip. I am very pleased to announce that I had 0 issues. Very Nice, Competent, and Trustworthy. They are now my permanent go to auto shop. Thank You Jeffrey's, and specifically Kevin. You did a great job, and won a lifelong customer.
Lisa Hanson, 7/11/11, Fort Worth, via Demand Force
I love your service. I always feel comfortable leaving my car overnight. A mechanic and boss even came over to my house, to check out how it was running.
Brie Jewell, 7/11/11, North Richland Hills, via Demand Force
Best service for oil change

I went in for an oil change and mentioned that my A.C. (which I had gotten repaired at Jeffery's a few months prior) wasn't consistently blowing cold air. After the mechanic changed my oil, he checked my A.C. for leaks or other issues. He discovered that there was too much Freon (terminology may be a bit off) and put it back to the proper level. All for no charge! When I found out they had checked my A.C. I was shocked at the initiative and was willing to pay for the extra labor. But they said not to worry about it and to come back if there were any more issues. That was great customer service and I will definitely be returning!
Kevin Aitken, 7/10/11, Fort Worth via Demand Force
Good Experience

Being my first time there, I watched as they gave people estimates and information on the work they could perform. They were honest and trusting. They weren't out to just make a buck, but a happy customer. Awesome warranty also. Beats anyone else. My work was done quickly and right. I will be back…
Dean Moyer, 7/7/11, Saginaw
Your employees are very nice and polite. Very professional and good location.
Jo-Len Shumski, 7/5/11, North Richland Hills, via Demand Force
Great Service

As always, the service was wonderful at Jeffrey's. Thanks Danny for your help.
Julie Anderson, 7/1/11, Fort Worth, via Demand Force
Very Good

We appreciate your service and would return.
Scott Rayburn, 7/1/11, Grapevine via Demand Force
Great job!

I had Tony install some spiffy exhaust tips. They look great. He has a good eye for making sure they were straight and did a great job. Thanks…
Tina Cooper, 6/30/11, Blue Mound, via Demand Force
I knew I had to get some work done on my car and had taken it to one place, but I had bi-pass Jeffery's many times, but had not stopped. However, I kept thinking about how I needed to get this work done asap and Jeffrey's kept coming to mind, so I finally stopped by and I am SO glad I DID! I was able to get the same thing done that the other place told me I needed done PLUS another major thing done for LESS than the one thing the other place was going to charge me!!! Jeffrey's is the first and only place I will take my cars from now on!!!
Anonymous, 6/29/11, via Demand Force
Excellent Service/Customer Service

Good and honest car service is hard to find. These professionals are good at what they are doing. If you are looking to get your car professionally repaired or serviced but don't want to get ripped off by dealers, Jeffrey's is your shop. I had 2 of my Lexus serviced here and we are very satisfied with the level of service they provide.
John Pelzel, 6/29/11, Fort Worth, via Demand Force
Experience

I have always received good and prompt service at Jeffrey's along with courteous and friendly service, and a convenient location.
Andy Simpson, 6/29/11, Rhome, via Demand Force
Very Professional

The guys at Jeffrey's were very professional. They explained everything to us and really seemed to value us as customers.
Nino and Allison Elliot, 6/27/11, Keller, via Demand Force
Thanks!

Thank you for working on our brakes and getting the car back to us the same day. Becki was a great help to us when she was able to drop me off. We will be back next month with the other car.
Joyce Thatch, 6/27/11, Watauga, via Demand Force
My experience with Jeffrey's Automotive

I have been letting them handle my car needs for years. I recently had them work on my 2004 ford escape, It needed an alternator. I am very pleased with the customer service I was given, they make you feel like your family. Danny even made a trip to my home after hours because I called when I got home and my truck was smoking, I only got the answering machine but left a message, within minutes Danny called, got my address and came over to check it out . That was totally above what any one else would have done. Thankfully the issue was not any thing to worry about and is corrected. Thank you all for always making it pleasant, I will always refer every one I know of how great a company this God based business is. I couldn't be more satisfied. Again THANK YOU ALL 🙂 Sincerely Joyce Thatch
Keith Minter, 6/24/11, Fort Worth, via Demand Force
Front End Alignment

Made an appointment at 9:30 and technician was available to take car immediately upon my arrival. I was told it would take 45 minutes. It took a little bit longer, but that was because I had replaced the front struts the night before and the alignment was way off as a result. Very nice people to deal with. I knew when there were three women in the waiting room that this was a great place to come. Women usually don't go to car repair places because most mechanics sell them a bill of goods and do services and repairs that aren't needed. Obviously, this is not the case at Jeffrey's. Thanks, guys!
Terrina Rush, 6/24/11, Fort Worth, via Demand Force
I was very pleased with the service afforded me by Jerry. I had gone to someone else first and had a Ac check done and was told I had a blockage and needed a new ac system and they said I was full on freon but could not get air cooler than 62. Here I paid for another AC check and was told I had a slow leak and was half low on freon which they replaced by accessing through a partial bumper removal. I don't think I understood it would be labor intensive or the cost but even so it was certainly less than a previous quote of $1500 and I now get cool air and time to save some money to fix the slow leak later. Thank you for your diligence and hard work.
Susie Pilcher, 6/23/11, Saginaw, via Demand Force
Alignment and Brake Inspection

They were so kind and understanding with me for my alignment…I had a device on my car that required my presence to start. The sales people overheard my conversation in waiting area about making an appt with Just Brakes for a brake job and they offered to inspect for free. They ended up saving me over $200 for brakes I was about to replace that was not needed. Completely honest and upfront…no unnecessary sales for services I did not need. I will most definitely use them again…and you should as well. It's hard to find a trustworthy service..you just did.
David White, 6/22/11, Keller, via Demand Force
Service

They were very fast and polite with me.
Caren Lane, 6/22/11, Haslet, via Demand Force
Jeffrey's is great!

Great service. Great pricing. Jeffrey's is great!
Perry Shultz, 6/21/11, Keller, via Demand Force
Thank you!

Excellent work on our Lebaron. Runs great and the a/c hasn't worked this well for quite some time! 🙂
Nara Walker, 6/20/11, Fort Worth, via Demand Force
Wow! Jeffrey's definitely earns our trust!

Our 2001 car blew an engine and not only did the guys at Jeffrey's install the new engine, when it broke down the next day they towed it in and fixed the problem for only the cost of the parts, even though the part that failed was not a part of the new engine install!! We were so impressed by the quick response and repairs! They have definitely earned our business and anyone we can recommend to!
James Anderson, 6/17/11, Fort Worth, via Demand Force
Simple Oil change

I had an appointment and the work was promptly done. I selected Jeffrey's for the work because I had a coupon. This was my second experience with Jeffrey's. The first time was for an alignment which was well done.
Jeff Vincent, 6/17/11, Fort Worth, via Demand Force
Very pleased with the service! Thanks!
Reginald Andrews, 6/16/11, Fort Worth, via Demand Force
The experience was great. Danny and others are always the best.
Anonymous, 6/15/11 via Demand Force
Great Job!

We needed a lot of work done to our 1997 Toyota Camry. They did an excellent job. It runs very smoothly now and will probably last another 100,ooo miles.
Robert Achee, 6/14/11, Fort Worth, via Demand Force
Professional Service

As always the service you provide is top notch…excellent…Service personnel are professional in everything they do. I will recommend Jeffrey's Automotive Repair to anyone needing quality and reliable auto repair.
Joel Caratheres, 6/10/11, Fort Worth, via Demand Force
Alignment! Superb!

Great services. Customer service oriented. First visit impressed. Will be back.
Google User 6//9/11
I first took my Honda civic'06 car which had an electrical problem with the brakes/indicator lights to the near by Honda showroom where they said that the initial diagnosis to identify the cause of the problem is very difficult and going to take a lot of labor time and cost. I said NO to them and searched Google for the other auto repair shop and ended with Jeffrey. I read all the reviews about Jeffrey's posted across different websites and I felt very happy to find such a good place. I left my car in the morning at their service center and I got a call back from them in the afternoon saying that the problem is fixed already. Everyone I met and spoke in the front desk was very nice and the Owner (Lady who takes care of customer relationship activities) is very kind and even offered me a ride back to home after I left my car in the work shop. Overall I'm very very very satisfied with their customer service and auto repairs. I would recommend Jeffrey's to all my friends. I'm not the kind of person who normally posts the reviews online. The excellent customer service & auto repair at Jeffrey's made me post my fist online review immediately after I'm back from collecting the car from them. I live in this area for around 2 years and I regret for not knowing about Jeffrey's automotive shop till today.
Fred Johnstone, 6/9/11, Bedford, via Demand Force
First Time Visit

I went to Jeffrey's because I knew it was Christian based. I was really glad I did because I was treated with the utmost respect. The Service Writer was very explicit on what needed to be done and explained everything very well. I was very impressed with the whole operation. But then when God is in it, it always is. I am retired and was in the automotive repair industry for over twenty yrs. There are few places that treat u like this place does. They have a permanent customer from now on. Your employees' are very outgoing and very friendly. You are so blessed to have them in your work force. I was blessed to have come there.
Anonymous, 6/6/11, via Demand Force
Quick Service. Nice People.

Truck needed a lot of little 90k mile service. They got it turned around quickly. Good guys too.
Toni Burwell, 6/6/11, Fort Worth, via Demand Force
Wow my car looks and runs like new. You people ROCK!
Shirley Avery, 6/04/11, Fort Worth, via Demand Force
I was very impressed not only with the service I received from a young man, Jerry, who was so respectful and kind, but also impressed with the price and quick service. I was recommended by Discount Tire and could not be more pleased. You have made a returning customer. Thank you.
Christian Sims, 6/03/11, Fort Worth, via Demand Force
Repeat Customer

Once again Jeffrey's has done an excellent job at a reasonable cost; plus they actually provide customer service. It is nice to have a place to take your car for service and get an honest estimate without fear of getting ripped off.
Jill Eady, 6/03/11, Roanoke
Your facility is nice and clean. Your employees are polite. I appreciate the smiling faces and you listening to my concerns. You are set apart from other automotive shops I have visited because of the clean environment, friendly faces and you are playing good safe music for the kids.
Violet Schofield, 6/01/11, Watauga, via Demand Force
As usual, Jeffries was very accommodating. They always make us feel like it is a privilege to service our vehicle. They are always so friendly. We will definitely be back.
John Lewis, 6/01/11, Fort Worth, via Demand Force
Great service, had disabled car picked up within an hour of notice, repaired and back in our hands the next day
Jerry Smith, 5/31/11, Fort Worth, via Demand Force
great customer service in automotive information
Rod White, 5/30/11
Your facility is well organized. Your customer service was very good! This was the best set of duals out of 6 sets I have had installed.Very good experience!
Beatrice Jernigan, 5/28/11, Keller, via Demand Force
Service was fast, efficient and courteous!
Patrick Newman, 5/25/11, Keller, via Demand Force
Quality Service

My wife's Eclipse had the A/C go out and I was needing a diagnostic to see if it was just Freon or if there were issues with the system. I came in per Bill at Discount Tire to find the problem. You guys worked me in to find it was the equipment that was bad. Very timely with the diagnostic and we are in the process of budgeting the funds to fix the problem.
Hugh Parker, 5/24/11, Hurst, via Demand Force
Thanks for my excellent customer experience at Jeffrey's. My visit was met with Courtesy, Professionalism, and excellent workmanship. My experience means a lot to a car owner. In the future if I need work done on my car you can be assured of my return. Hugh Parker.
Jeff Campanozzi, 5/24/11, Watauga, via Demand Force
Our 2005 Saturn Relay

We were very happy with our service at Jeffrey's. I believe they are very honest and helpful and I will definitely continue to bring our vehicles to Jeffrey's. It is very hard to find an auto repair place that you can trust but I have definitely found one! Thank you so much!
Trudie Carpenter, 5/22/11, Haslet via Demand Force
I absolutely love this place. They are very honest and good at what they do! I would recommend anyone to them! They are quick and very accurate on diagnosis of issues. Thank you! You guys Rock!!
Carol Rice, 5/19/11, Watauga, via Demand Force
Very friendly, excellent and speedy service
Gerald Cathey, 5/19/11, Fort Worth, via Demand Force
Radiator resplendence

Just over $500 for a brand new radiator on my late model Dodge truck. That included the actual radiator($180), coolant, flush and fill, and labor. Trust me, that's a good price. I probably could have purchased the actual radiator for a little less somewhere else, but $180 is a very fair price.
Krista Kopp, 5/19/11, Fort Worth, via Demand Force
Excellent service. Very impressed!

Great customer service, extremely friendly staff! Will always come here for any future auto needs.. Great company with great values 🙂
David Newhouse, 5/18/11, North Richland Hills, via Demand Force
My experience day before yesterday with Jeffrey's started with a warm greeting, then a quick understanding of my issues and followed by a quick test ride to confirm issues. I received a thank you email that day for using them and a call-back from their very friendly service technician telling me how my repairs were going and when I could expect them completed. The repairs were done on time according to their estimate. The only exception was clearly explained to me in advance so there were no surprises when I arrived to get my truck. Great job Jeffrey's service Team! I'll be back!
Charles Carter, 5/14/11, North Richland Hills
The facility is bigger than I expected! The customer service was better, more personal than any big chain store such as Firestone, Sears, or NTB. They are local, knowledgeable and friendly.
Rustie Inman, 5/13/11, Haltom City, via Demand Force
My van died on me at a store. Our insurance paid for a tow to Jeffrye's Automotive. They ran diagnostics and called to tell us that my timing belt went out. When we gave them the go ahead they fixed my van and had it ready that afternoon.
Keith Kingsley, 5/10/11, Keller, via Customer Lobby
Great value for the quality of work received!

I moved here in 2001, and Jeffrey's Automotive is the only place I go. I know the people there, and I know that they will find out the problem with the car. I have had a lot of major work done there as well as maintenance. I have 5 kids, so Jeffrey's Automotive works on all their cars and on mine. They have done everything for me and they know me by name.

The work really is quality, and that is why I go back. They will do it right the first time. They tell you like it is, and it is very good value for the quality of work you receive. They don't give their work away, because then they couldn't be in business, but for the quality of work you receive, it is a great value. I have my elderly parent/s go there because I know they will be treated right; that says a lot.
Anonymous, 5/10/11
Honest!

Great customer service and honesty! Did my repair in a timely manner!
Jeff Sims, 5/9/11, Keller via Google
I have been a customer of Jeffrey Automotive since 2003. They are very understanding and great to work with. Fair on price, and they give you all the options for your repairs. I can't recommend anyone else better in the mid cities area. I have taken a Ford Expedition to them, a Ford Explorer, a Volvo 960, a Toyota 4Runner and VW Jetta, they can do it all at a great price.
Tommy Sparks, 5/9/11, Euless
I received the greatest treatment at your facility. I loved it! Customer service was wonderful, as was everything else! You were friendly and helpful. I will be going back in the future and I will definitely refer you.
Karin Krause, 5/8/11, North Richland Hills, via Demand Force
Job well done! Thank you Jerry for looking out for me!

Thank you so much! I feel very comfortable bringing my Volvo to you and have complete trust in you. Your office is very friendly! Please do keep me informed of the next service needed – your emailing works easy and wonderful!
Roy Kempthorne, 5/5/11 Keller, via Demand Force
Great Efficient Service

Once again, Jeffrey's comes through with fast efficient service. Thanks again.
James Henderson, 5/4/11 Fort Worth via Demand Force
Highly Satisfied!
Carol Chung, 5/2/11, North Richland Hills
Your facility covers everything from auto repairs to paint and body work. Your employees are very helpful and friendly. I received great customer service. You are honest and trustworthy.
Laura Mata, 5/1/11, Keller via Demand Force
My car was in dire need of an alignment. We did some calling around and Jeffrey's was the least expensive in our area. We had heard of them before but had never been there. We were pleasantly surprised. The grounds are well kept. Everyone was friendly and eager to be helpful. The two that helped us took time to explain some things that were very helpful. Check in and out were very speedy. While we were waiting we were able to see all of the other services that they offer and we will definitely be back!
Michelle Devaney, 4/29/ 11, Fort Worth via Demand Force
I had excellent service. They got me in and out very fast. Thank you.
Anonymous, 4/29/11 via Demand Force
Excellent experience

I went to Jeffrey's after reading numerous positive reviews. I was not disappointed. They were prompt and very pleasant. I received great service for the very reasonable price. I am very particular when it comes to my 370Z and will definitely visit here again. Thank you.
Adam James, 4/25/11, Haltom City via Demand Force
Brake work

Quality work at a fair price. Always satisfied!
Warren Lee, 4/21/11, Fort Worth via Demand Force
Courteous, prompt service

I made an appointment and was able to get my 2003 Jeep Liberty in for testing. My car had a very bad shudder to it. The price for replacing the #1 cylinder coil was very reasonable. The staff is very friendly and goes to great length to explain the problem and how they can fix it. I've been to probably two dozen auto repair shops. and this is by far the friendliest. Well done, guys.
Mike Divall, 4/20/11 Watauga via Demand Force
Broken wheel stud

I have been going to Jeffrey's for several years. The service is always excellent! The service manager Kevin Brown was excellent. He kept me appraised of the ongoing work and even suggested replacing a couple of lights that were out. The work was done in a very timely manner. I was out in less than an hour.
Adrienne Lovell, 4/19/11, Corinth via Demand Force
Service

I have been to Jeffrey's Auto Service for several things. They have always fixed it right the first time and I have never had to return for the same problem. The prices are competitive as other places and cheaper than dealerships. As far as I know they stand by their service. Good job guys.
Michael Weaver, 4/19/11, Fort Worth via Demand Force
Happy Customer

I was real pleased with the service and with the work done on my wife's car. I will be returning when I need service with my needs. Keep up the good work!
Barbara Wicker, 4/14/11, Colleyville via Demand Force
Great Service

I just got my car back from my second trip to Jeffrey's. The people here are so friendly, helpful, polite (it's always yes ma'am..) and knowledgeable…fair prices and great work with great warranties. I highly recommend them.