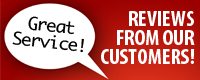 More Customer Reviews
____________
Tom/Pat Kirk, 06/27/12, Fort Worth, via Demand Force
Inspection Sticker

Excellent. Satisfied. Efficient. Prompt. On Time.
Rose Marie Fasel, 06/22/12, Justin, Via Demand Force
I love the service I receive whenever I need to visit. I have always been treated well and never feel as if I am a "dumb" female. I am always satisfied with the service I receive here. You take great care of my vehicle and your online services are great as well. Love Love Love your company.
Don, 06/19/12, Watauga, via Demand Force
Great service!! All work done on time,would highly Recommend!! Jerry Maxey is a great service manager!!
Tom Kirk, 06/13/12, Fort Worth, via Demand Force
Brakes, Hoses, Fan Belt & Radiator First checkup for this car after 168,000 miles. Jeffrey's Automotive replaced several items that were about worn out and renewed my vehicle. I am extremely satisfied with the service. /tom kirk
Joseph B, 06/12/12, Demand Force
I was recommended Jeffrey's by a friend who has lived here a very long time. I had the new compressor and components replaced at another shop. After all repairs they could not find the problem with the compressor not turning on unless it was jumped. Needless to say Jeffrey's ASE certified AC mechanic found and repaired the problem in minimal time. Most will tell you that you don't find service like this hardly anymore. Thanks also to Jerry for the courteous service and seeing that I got a ride home and back when my vehicle was ready. Thanks again Jeffrey's and "I'l be baaak" if you know what I mean!
Clint Bissett, 07/24/12, Saginaw, via Customer Lobby
I've actually been using Jeffrey's Automotive Repair for six or seven years now, and I've always had great service from them. They're always upfront. They're honest and open, and easy to deal with. They have very competitive rates for the work they've done for me, and have stood behind their work! I've had a couple minor issues, but Jeffrey's Automotive Repair always followed up. They stood behind the work and made sure it was done correctly and resolved!
Mark Derr, 07/24/12, North Richland Hills, via Demand Force
Quick Fix

Took my truck in to get the AC checked out and was afraid it might require a new compressor/condenser. It just needed a new relay switch and it was fixed and ready to roll the same day. Thanks guys!
Jo-Len Shumski, 07/23/12, Euless, via Demand Force

It took longer than expected to get the truck fixed, because the parts people kept sending the wrong part. Jerry, kept me informed as to the status of what was happening. I got the call 1st thing the next morning that the truck was ready. Settling for 2nd best is something that Jeffrey's rejects.. and I'm so glad.
Ricky Cayton, 07/21/12, Fort Worth, via Demand Force
Always awesome

I've been bringing my cars here for about three years now. Because I like to buy older cars that require a lot of maintenance, I'm getting them fixed more often than average. The employee at Jeffrey's are always honest, courteous, and willing to work with me. Turnaround is always as fast as humanly possible.
Claire Daggett, 07/18/12, North Richland Hills

Very friendly staff and clean waiting area

I was extremely impressed with how friendly and honest your employees were

Exceptional customer service! Personal Touch! Fast Service!
Lisa Rodrigues, 07/17/12, Keller, via Demand Force
First Time Customer

I appreciate going to a business that is honest and a friendly atmosphere.I am glad to have found a new place to take my car.I use to go to the dealer but now I will be going to Jeffreys. Thank you for your great customer service and prices.
Michele Evans, 07/16/12,Fort Worth, via Demand Force

I was informed by another auto repair shop that my O ring gaskets needed to be replaced. The cost of the repair was prohibitive. I took it to Jeffrey's for a second opinion and a quote. They were very competitive with their quote however I had to leave the car with them all day. I don't have another car and I couldn't get anyone to pick me up and drop me off. Kevin arranged for Kelly to accommodate me. I was so grateful. Jeffrey's saved me the cost of a more expensive repair service and the cost of a rental car too. They are honest and reliable and considerate of their customers.
Lauralyn Budge, 07/14/12, Fort Worth, via Demand Force
Excellent service as always. If we didn't have to move out of state we would definitely be returning.
George Burd, 07/12/12, Keller
Very satisfied

Very friendly and helpful

I couldn't be more pleased with your professional and helpful customer service.
Jo-Len Shumski, 07/12/12, Euless, via Demand Force
Service always good at Jeffrey's
Yvonne Chambers, 07/11/12, Fort Worth
Your facility was nice and clean and the drinks were surprisingly affordable. The employees were courteous and prompt. The level of customer service was great. They were able to take care of my car very quickly. The thing that sets your automotive shop apart from other shops was the Christian atmosphere. The music as well as the smiles made me comfortable while waiting.
Robert Cole, 7/11/12, Fort Worth, via Demand Force
First Repair Visit. On Time and Honest

Made an appointment for 9:00 AM and that is when they began working on wife's car for brake check and frt end alignment. Did not try to sell me a bunch of unneeded front suspension parts like many shops will try. Brakes were ok did not need replacement. When it is time I will return to Jeffrey's.
Lance Patton, 7/10/12, Fort Worth, via Demand Force
Excellent customer service

I brought my truck in and my engine was blown. He gave me the estimate for a new engine. We decided to donate the vehicle to the Fort Worth Can Academy. He allowed us to keep the vehicle there until they could pick it up. That kind of customer service an hospitality will make me return in the future.
Rose Fasel, 07/07/12, Justin, via Demand Force
My oil change

I really love visiting. Ya'll are always quick, very polite and efficient. Thank you!
Nina Muraski, 07/05/21, Keller
I will definitely recommend your business

Very professional, friendly, fast service, clean, courteous, knowledgeable, top notch customer service, trustworthy
Anna Carlin, 07/3/12, North Richland Hills
I was surprised by how large your facility was. I had a good experience with your employees. It was a reasonable price and got the vehicle done in time estimated.
Wilda Bender, 07/02/12, Keller
Excellent customer service, clean and professional
Charles Scoma, 07/01/02, Fort Worth, via Demand Force
We have been customers of Jeffreys for many years, have referred many friends, and are always pleased with the work and helpfulness of all the men in the office.
Bob Miner, 07/01/12, Fort Worth, via Demand Force
Excellent Service

I checked in at 8:30 and was taken in immediately. The service was fast and the staff was professional.
Gracie Reed, 06/28/12, Fort Worth, via Demand Force
Safety hazard

Even though my bill ended up being a lot more than I planned on spending, I know I can trust Jeffrey's, and know they're not "finding" things to fix just to get more money. They found and fixed the problem, which was a safety hazard, and now my car is running great!
John Pelzel, 06/11/12, Fort Worth, via Demand Force
The only place that I feel secure when I need service and repairs

Friendly and honest personnel and they will furnish an estimate prior to repairs
April Dobson, 06/08/12, North Richland Hills, via Demand Force
Fast and friendly service

Jeffrey's was so incredibly easy to work with. At the last minute, I had to change the scheduling and what services were to be performed. They accommodated my every need with a smile. All work was completed ahead of schedule. I look forward to working with them in the future!
Michelle Moore, 06/07/12, North Richland Hills
Your employees were friendly, helpful and honest.. Your mechanic actually showed me on the vehicle what was wrong and explained it in a way that I could understand…customer service was awesome…
Cheryl Dastugue, 06/07/12, Southlake
Outstanding

I really appreciated the number of service writers. It is easy to reach a knowledgeable person with no wait. Customer service is very helpful and very prompt…great updating of progress and communication…no surprises. Honesty! I truly feel the people want to do what is right for your vehicle, given how long you plan to keep it, in an honest and cost effective manner.
Ruben Gonzalez, 06/07/12, Fort Worth, via Demand Force
1967 Mustang

All personnel were very professional and cordial, Tony in the exhaust station did outstanding work installing the system on my car I'm very pleased with it, and David in the alignment station needless to say removed any doubts that I had about the mods I did on my suspension "dead on with the alignment" specs I requested also very happy with his work, and again Larry in the A/C barn came thru for me, my wife and I will now enjoy our mustang and last but not least Tony Brooks thank you I will definitely recommend your shop to my American Airlines friends and coworkers. Thanks again Sincerely Ruben Gonzalez.
Madell Shepherd, 06/05/12, Watauga, via Customer Lobby
I have used Jeffrey's Automotive Repair twice now and they are great. I have been getting my tires checked by them and it was one of the most honest experiences I have run into. As an older woman who wants to trust the shop who cares for my vehicle, I am completely sold on them. They did tire rotations and repairs for me and I see no reason to leave their services.
Shayla Williams, 06/05/12. Grand Prairie, via Demand Force
I was very impressed with the service here! I only had a little money and I went in very afraid of the pushy repair man that I get at other places. I was actually referred by a tire store. Even though this place was very much out of my way, the friendly customer service at the tire store made me curious about the service of anyone they would/could refer so I took a chance. I couldn't have been more pleased and more wrong about the pushy repair man. Not only was my car fixed, but they SHOWED me exactly what was wrong with it. While.the car was up in the air we noticed that my bumper was I dangling a bit and they were even interested in fixing that with no charge simply because it was it was an easy fix! Unfortunately, my car did have other minor issues that I could not afford to repair at that time. I didn't get the scary speech that everyone dreads, I, instead was told that they would make my vehicle as safe as possible until I was able to come back in. I would drive back there for any repairs, even if I were 100 miles away! The service is excellent, the staff is excellent and the customer service is unmatched! The neat coffee and tea machine is perfect, its also worth trying during your short wait!
Michael Salazar, 05/30/12, Fort Worth, via Demand Force
Always a pleasure!

As usual- great service! Had I known about the online appointment tool it would have made my day more efficient. I now know so definitely using next time.
Jason and Rene Moss, 05/25/12, Saginaw, via Demand Force
Great Service

These guys are great and fast. The quote they gave me was the price I paid. So no surprises like other places. Nice, helpful and professional.
Greg Davis, 05/24/12, Roanoke, via Demand Force
great work and an honest shop

I came in to request some work done to my 2012 camaro. the work was done correctly. Jerry took care of my every need and i will be a customer for life
David Stidham, 05/24/12, Haltom City, via Demand Force
Simple Check- up and Excellent Service

I continue to be amazed by the level of customer service and efficiency that is given by Jeffrey's. I look forward to becoming a regular customer.
Jack R, 05/23/12, via Google

I went to my local dealer and after two tries at diagnosing my transmission problem, they told me they had to have $3300 to rebuild it. I took it to Jeffrey's and they fixed my problem for less than $100. They earned my trust and I'll be back.
Trish Fitzgerald, 05/21/12, via Demand Force
I had the best experience I have ever had when taking my car to be checked and serviced. Everyone I came in contact with was so genuine. They listened to what I thought needed to be fixed. They checked the entire car for everything. When I picked my car up they reduced my final bill by $150 applying the coupon on Angie's List (without my asking). I highly recommend Jeffrey's Automotive to everyone needing auto repairs!
Family of 5, 05/17/12, via Google
5 Years/4 cars and counting … they always are dependable and are up front and honest if they cannot solve the issue. I've taken my Nissan, two Mazda's and a Toyota to this shop over the past 15 years. Never have they over committed and are VERY quick to point out if a repair needs to be done at a dealer due to a specialty need. What's great is that you see the SAME employees at the counter whenever you go in – not an employee who was there for a few months and then left. There is strong employee loyalty at this location, and strong customer loyalty as well.(Regardless of some of these rankings.) They are a family run business, so having the weekends off is critical – as well as taking a week out of the year off as well. If I have a car emergency during any of those times, honestly, it's not their fault, it's just Murphy's Law. And they open bright and early so I can drop my car off before heading in, then give me a call if the repair will take longer than expected. In this day and age it's nice to have a 'partner' in the business community who treats me fairly and knows me by name.
Michael Salazar, 05/17/12, Fort Worth, via Demand Force
Simple oil change- simply convenient

In and out during my lunch break. Impeccable service – great to have such a dependable, honest and contributing business in our community.
Les Hodges, 05/07/12, via Demand Force
Good work

Did a good job and was fast…had my car ready in one day
Anonymous, 05/05/12, via Demand Force
I believe that I received a good service as always.
I keep coming back because I am given an honest answer regarding my truck repairs or service every time. I appreciate it. I really like having the coupons sent via email and was able to use them on this past service.
Jeremy & Paige Duke, 05/05/12, Fort Worth, via Demand Force
Excellent Service

I've received excellent service every time at Jeffrey's Automotive. This last time, I took advantage of their late-night drop off. I heard from them mid-morning the next day with a diagnosis of my vehicle. As always, they worked quickly on my vehicle, and they were professional, kind, and took great care of my car. Thanks again for taking such great care of my car and for your kind and professional customer service.
Priscilla Oglevie, 05/01/12, via Facebook
Thankfully, I don't have to drive too far to Jeffrey's Automotive, but I would! I have been a customer for several years and will continue to choose Jeffrey's Automotive Repair for my auto repair needs in the future. It is a great feeling to be able to trust that I will be treated honestly and fairly. It is owned and operated by a Christian family who truly live what they believe. It's always a pleasure to do business with them and to refer others knowing that they will have a great experience, too!
stationhouse, 05/01/12, via Google
My transmission went out on my car and I tried to get a hold of a dealership to find out if they could tow and how much, etc. Everyone, and I mean everyone was in a meeting! So I remembered a friend's family owned Jeffrey's so I contacted them. The guys there were all so nice, gentleman, "yes, ma'am and no, ma'am." They had my car towed in and got me quotes and did the work getting me a new transmission. They were cheaper than the dealer would have been and I was very well taken care of. I've been back for oil changes and K mile checkups and always greeted with a smile. The customer service lady, Kelly, is a sweetheart. They bend over backwards to help you and will even give you a ride home or to work. I highly recommend them for minor and major work!
Bob Straface, 04/27/12, Denton , via Demand Force
Outstanding Customer Service
Once again I left Jeffrey's with the confidence that my car was serviced as needed. I completely trust Morton, Tony, Jerry, Danny and the rest of the staff. It's comforting to know they check your car out for any defects that you can't see. Also reassuring that they are honest people and do not engage in unnecessary repairs. Thanks, Tony for taking care of us. Regards, Bob & Rosemary Straface
acjohnson, 04/26/12, via Google
Trust them completely! I have known Jeffrey's as long as they have been in business. Very honest, trustworthy. I know everyone there – Tony, Kelly, Jerry, Kevin and Andy. Have never been made to feel that I didn't know what I was talking about when it comes to my car. They truly care about my safety and my family's safety.
Darin Hollingsworth, 04/25/12, Fort Worth, via Customer Lobby

They're always honest and professional. Good quality repair.

Jeffrey's Automotive Repair always been good. They're honest and upfront. They tell me how much the repair is going to cost before they actually do it, which I really appreciate. I had one experience where the power steering fluid was low and I couldn't figure out why the car was making an odd noise. I took it in 3 times to Jeffrey's Automotive Repair and didn't charge me at all. They eventually figured it out and the noise went away and it was all good.
Otis Bakke, Haslet, 04/20/12

Your facility is efficient and well run. Customer service is first class -fast-done right. Everything done on time as promised.
Rachel Pickett, 04/19/12, via Facebook
I took my vehicle to Jeffrey's Automotive on the recommendation of Discount Tire in Keller because there were a couple of parts that were wearing/breaking down on my 2006 Magnum. I took the vehicle in, talked to Danny and he was very honest. Made an appointment to come back at my convenience and they got my vehicle looked at very quickly, talked to me about the concerns, made a recommendation, and quoted me. Set up an appointment for the following morning. Quoted 2.5 hours in Labor. With in that time frame, less to ne exact, I had a call from Danny saying that my vehicle was ready to go. Now my vehicle drives great! I would highly recommend Jeffrey's Automotive for service on your vehicle. Not only is the service and work great, the people are Awesome, nice, friendly, understanding, and all the othere good things that go along with good people!
Eileen Kaplan, 04/19/12, North Olmstead, Ohio, Via Demand Force
Service, Quality, Customer Service

I have always made it a point when back in Texas to take my car to Jeffrey's. I'm sorry they aren't also in Ohio (where I moved to). They are truly outstanding people that work for Jeffrey's, not people you find in the business today. I have been doing business with Jeffrey's for more than 12 years and pass on to people I still know in the area how great they are. THANK YOU.
Julie Laughlin, 04/18/12, Hurst, via Demand Force
Front End Alignment

Ready for me at the time of my appointment, let me know what needed to be done, had me out of there at the time I needed to go to another event. Love the music.
Maria Nieto, 04/17/12, Fort Worth, via Demand Force
Courteous and efficient service. Extremely pleased with my repairs. Costs were most reasonable. Front office atmosphere was very relaxing, I felt comfortable. I also very much appreciated their courtesy transportation to my home. I believe they are definitely honest which is extremely important to me. I will certainly be returning and looking forward to their servicing my vehicle in the future. I believe you take pride in your work. You are certainly people oriented…..very caring. I do appreciate my initial experience with you and am anticipating future services with you. Thank you so much!
Chris Hathaway, 04/17/12, Fort Worth, via Demand Force
Good Place

I really liked this place. Had them fix my tire that was getting wobbly and striped my bolts on my wheels. They were nice people. Usually when I go other places, mechanics are kinda rude. These guys were fast and nice.
Manuel, 04/16/12, via Google
We do not hesitate in highly recommending Jeffrey's Automotive as one of the best Automotive Repairs Shops around. You can count on them doing a job well done, quickly and at reasonable prices. They are friendly and effective and you will not be sorry that you took your vehicle to them.
Bill Pratt, 04/15/12, Fort Worth, via Demand Force
Cadillac Service

Your service was fast and efficient. Enjoyed being with part of the Jeffrey family.
Gary Fallis, 04/13/12, North Richland Hills
My impression of your facility: Excellent, comprehensive care, cleanliness

My experience with your employees: Courtesy and expertise

Your customer service is professional and personal

I appreciate the honesty and dependability not found elsewhere.

Prompt diagnosis of problem, report of cost involved and a timely repair.
Anonymous, 04/13/12, via Demand Force
Jefferys has always been a place that I have trust in. Even when I question the prices or ask for a review of the estimate, Tony has always done right by us. We have been customers for numerous years and always take the vehicles to them after they are out of mfg. warranties. We tell people to give them a try.
Anonymous, 04/12/12, via Demand Force
Thanks Tony for always doing the best you can by us. It's why I always come to you first and will continue to do so. Your staff is one of the best I have ever dealt with. The girl is a nice touch to the office. We tell anyone who ask to go see you if they need automotive work done.
Dru G. 04/11/12
We were referred to Jeffrey's by a friend. Good job on our old work truck, and great customer service. They even picked me up when I didn't have a ride there in time! We'll be back in for sure.
Jan Mcintyre, 04/11/12, Haltom City, via Demand Force
Car repairs

I'm always pleased with the car repairs and the service people – I always recommend your services to anyone I know needing repairs – thanks for the great service!
Lori Karkkainen, 04/09/12, Keller
Your facility is clean and very organized. Kevin was very helpful and courteous. I felt like they truly just wanted to fix my car, no oversell! I felt like I could trust what Kevin was telling me.
Brad Greene, 04/09/12, Fort Worth, via Demand Force
great service

I was referred to Jeffreys and was very please with the service and work done. It was done in a timely matter and was ended with a friendly hand shake.
Susanne Van Speybroeck, 04/5/12, Keller, via Demand Force
car inspection

my inspection tag was expired and I was just looking for a place to drop in on my way to my first morning appointment. Great customer service, fantastic environment. Will probably start coming here for all our car work even tho it's a little out of our way. we always want to work with great businesses even it it's not the most convenient location. thanks much
Lewis Johnson, 04/5/12, Haslet, via Demand Force
Good job and on time

I am proud of the way you have taken care of my car.
David Austin, 04/2/12, Fort Worth, via Demand Force
Great, prompt service. Will return for sure!
Charley Taylor, 03/30/12, Fort Worth, via Demand Force
State inspection

I called ahead to find out when the inspection specialist would be back from lunch and was told the best time to arrive. I was handled promptly and quickly – hardly had time to read my book! All the staff was courteous and efficient. Great experience again! The coupon was nice too!
Brian Sasz, 03/29/12, Keller, via Demand Force
Transmission Fluid Change

I am happy with Jeffrey's service work. I have had them do several things for me over the years, and would recommend the as your service provider.
Jeff P. , Watauga, 03/27/12, via Customer Lobby
Phenomenal quality, only surpassed by their impeccable honesty.

I've been a longtime customer of Jeffrey's Automotive Repair, for about 10 years. I think they're just really easy to approach. They do their job, and keep the customer's best interests at heart. Their service is outstanding. They are great at providing quality solutions that don't cost a fortune.
Ryan, 03/27/12, via Google
I have been using Jeffrey's Automotive for almost 15 years. Andy and crew are extremely professional and will always do whats right by the customer. Jeffrey's Automotive is not just the shop around the corner….. I have brought my vehicles to them from North Dallas because of their Christian values and the product they provide.
Marilyn Leach, Fort Worth, 03/25/12, Fort Worth, via Demand Force
My trip with my car

Danny is wonderful and a great representative of your company. He deserves a raise!
Scott Dickerson, Fort Worth, 03/24/12, via Demand Force
Exhaust work

The guy doing the exhaust is very good! Very happy with the work.
Anonymous, 03/22/12, via Demand Force
professional

This is a professional company. They treat customers with respect and dignity. They provide information needed and honestly and respectfully answer any questions the customer has…sometimes I have many questions. I have never felt rushed or as if my dignity has been taken away. Most definitely will return. Thanks for your assistance and courteous service
Tom and Judy Snider, 03/21/12, Watauga, via Demand Force
Jeffrey's in my own words

Jeep was taken in and got excellent treatment from all the staff as usual.I didn't tell them about the inspection and when I did they got right on it.Went to Joes to have a bite to eat and it was very good.when I got back the Jeep was ready to go.The bill was less then expected for the work that was done. I WILL BE BACK
Nancy Baum, 03/19/12, North Richland Hills, via Demand Force
tune up and mount replacements

all was satisfactory; I am satisfied.
Misty Paul, 03/18/12, Haslet, via Demand Force
Reliable and Courteous

One thing I love about Jeffrey's is that they don't make you feel like the stupid woman who doesn't know anything about cars and I don't feel like they are out to screw you over because you don't know. The times I have used their shop they have been respectful, reasonably priced, and informative. I have now become a loyal customer and drive here just for oil changes as well.
Charles & Sherri Lewis, 03/16/12, Fort Worth, via Demand Force
Excellent service as always. Had some trouble with the check engine light but your mechanics prevailed like true super heroes!
Michael Henriques, 03/15/12, Fort Worth, via Angie's List
Oil change, Air conditioning repair, Fuel injection cleaning

I always have my oil changed here and have been happy overall. The waits can sometimes be a little long for the service they are performing. This last trip I also needed to have the air conditioning fixed. They did what they said they would do and now it blows out cold air. Thanks guys!!
Elizabeth Daniels, 03/14/12, Fort Worth via Demand Force
my experience

Jerry Maxey (alligator on desk) was polite patient and understanding to the fact that I new nothing about what needed to be done to my car, he and the mechanic took their time and explained it to me, and the mechanic went one step further to show me what they where talking about to make sure I fully understand, and for that I intrust my car completely to Jeffrey's Automotive, and refer my friends and family, by mouth, phone, and face book. thank you so much for the courteous (excellent)service
Michael S., 03/13/12, via Yelp
I have used Jeffrey's as my dealer alternate for the past 5 automobiles for both myself and my wife. They are honest and up front on the service needed and are not afraid to advise me to go to my dealer if the job needing to be done requires specialty work they cannot complete. As David states, they are not cookie cutter and owned managed by a different person every other year. This is a dependable, rock solid business that has always been there to assist me, from the smallest of fixes to the most involved and time consuming.
TCG, 03/13/12, via Google
We have been using Jeffrey's for a few years now and can always count on an honest assessment, quality repairs and maintenance, and a good value. They are especially good at completing their work on time when they say they will! Highly recommended!
Larry Parker, 03/09/12, Keller , via Demand Force
First visit

Very friendly staff – nice atmosphere. I was informed of best times to bring the vehicle in to ensure that repair would be completed that day. Repair was done promptly, along with evaluation of another condition that I had noticed with the car. Estimate was given with complete explanation…
David Addison, 03/09/12, Fort Worth, via Demand Force
Vehicle inspection

I was treated with respect and fairly and will be taking my other vehicle there for inspection
Robin Ansley, 03/06/12, North Richland Hills, via Demand Force
Excellent Service

I took my daughter's VW Beetle in for a tune-up and alignment, but found out it desperately needed some critical work done. Kevin was very helpful, letting me know what the technicians were finding and what was necessary and what could wait. They did a lot of work and completed it all in one day. I appreciated the service, the tact, the guidance and the ride home.
Donald and Joan Davis, 03/01/12, Fort Worth via Demand Force
Helpful

Everyone here is so helpful. Kevin took care of my car right away–as usual. I did not have to worry about a thing!
Fernando Banda, 03/01/12, Fort Worth, via Demand Force

It was my first visit and was very pleased at the professionalism of this shop. KLTY was playing in the waiting area and the gentleman (Jerry) was telling everyone "God Bless you" and I truly believe he meant it. I look forward to doing more business with Jerry and his team. Let your light shine before men in such a way that they may see your good works, and glorify your Father who is in heaven. (Matthew 5:16 NASB)
Steve Umbaugh, 02/29/12, Fort Worth
Your facility seems very organized and well maintained. Everyone seems very courteous and professional. Customer service was good. We were kept informed about the status of the repair. Parts were ordered for brake repair and job was completed the next day. We were taken back in the shop to see first hand what caused the brake problem and what was required to fix it. Actual repair cost was in line with the estimate.
Carrie King, 02/29/12, Richland Hills, via Google
We have taken our suburban to Jeffrey's for several years now, and the service is great. Tony and Andy go above and beyond to help us. They are in constant communication on recommended service work. Jeffrey's took the time to research and solve our wiring problems on the car. Kelly Vaughn is always ready to give me a ride home while my car is in the shop.:) Highly recommend Jeffrey's Automotive!!
David Fraze, 02/28/12, North Richland Hills, via Yelp
I love Jeffrey's! They have ALWAYS handled my automotive needs with a high degree of professionalism and character. They have helped me with tow services, they have fixed engine problems, oil changes and been there on the phone when I needed to ask a question about an engine light. Whether large or small, I use Jeffrey's for all my automotive needs. In a day and age of "cookie cutter" shops, they care about their customers and give them individual attention and service.
Cary Branscum, 02/28/12, Fort Worth, via Customer Lobby
Good work and great people

Jeffrey's Automotive Repair did several things for us but we love that they do the work well and you can trust them. If they say you need this, we don't have to debate whether or not we need it. They don't prescribe anything we don't need. They give us the option to and recommend it but they don't force it. They go the extra mile in a lot of little ways and take care of us. When they do the work, they do it right. If something doesn't go right the first time, they'll definitely fix it.
Julie Anderson, 02/24/12, Keller
Your shop is clean, busy and friendly. My experience with your employees was excellent. I am very happy that you did not try to sell me something I didn't need. The fact that I can trust you sets you apart from other automotive shops that I have visited in the past.
Jimmy Chestnut, 02/22/12, Saginaw, via Demand Force
greatness

I dealt w/Jerry he was very professional and i will always bring my cars to ya there's 3 things i look for. In a company.You're a Godly organization and you have outstanding cust. service and a good reputation. thanks for an excellent experience god bless
Hagan Farmer,02/21/12, Fort Worth, via Demand Force
My first visit but won't be my last!

They have the best alignment price I've ever seen and the guys were great! I'll be back! I appreciate it guys!
Kenneth Mckee, 02/20/12, Fort Worth, via Demand Force
Engine Light

Same day service, in..done..out
Brett Menke, 02/20/12, Haslet
You have nice facilities. They are clean and accommodating. Your employees are courteous and knowledgeable. The customer service was first rate. I don't get the feeling I am a part of a cattle drive!
Phil Martin, 02/13/12, North Richland Hills, via Google

Thank you Jeffrey's for your attention to detail and timeliness in working on my vehicles. I cannot get by without breakdowns and service, but when they happen I do know where I can count on fast courteous service at a reasonable price. I have used them for approximately 10 years. Thank you!
Britton Taylor, 02/13/12, Grapevine, via Demand Force
Jerry helped me, and saved me a ton of cash. my last mechanic told me that I would have to replace the whole steering system on my Audi. Jerry checked everything and told me that I just needed an alignment and some power steering fluid. Thanks! Jerry saved me THOUSANDS!
Mark Oliver, 02/12/12, Keller via Demand Force
Absolutely great service and attention to deal. Excellent maintenance service. Counter help Outstanding. Very refreshing to receive phone call saying that I was over charged and that the gentleman behind the counter wanted to know what was a convenient time for me to return to the shop to make things right. Honesty… Wish more businesses would follow your lead…
Richard Nelson, 02/06/12, Keller via Demand Force
Annual Safety Inspection

Thanks for the quick service.
William Barnes, 02/02/12, Fort Worth via Demand Force
Exhaust

The dual exhaust they placed on my truck seems fantastic!! It took them 35 minutes, and the price was lower than anywhere else I called.