* READ ALL OUR ARTICLES ABOUT DIESEL REPAIR
At Jeffrey's Diesel Repair, we specialize in Power Stroke, Duramax and Cummins diesel repair. From 7.3L to 6.0L to 6.4L and 6.7L, we know these engines inside and out.  For massive torque, muscular horsepower and long-haul diesel dependability, diesel engines are very popular and we know you want to maintain it for a long time.  We can fix it!
Give us a call today at (817) 485-7340 and our diesel specialists will help you figure it out. Our light duty diesel repair shop specializes in diesel repair and maintenance right here in the Fort Worth/Keller area, specifically Ford Power stroke repair.  In most cases, the dealership has a 6 year cutoff so you may not find them a great place to work on diesels. Jeffrey's Diesel is a Fort Worth family owned ASE certified independent and state-of-the-art auto repair shop easily accessed from Keller, Watauga, North Richland Hills, Colleyville, Southlake and other surrounding communities.  And we are not out to sell you a new truck like a dealership might (our ASE certified technicians are not salespeople). We are interested in repairing your Ford Power Stroke diesel engine and getting your back on the road! When searching for diesel repair in Fort Worth, contact Jeffrey's Diesel Repair!
At Jeffrey's Diesel Repair in Fort Worth, our diesel repair shop has 10 bays just to service our diesel customers. Plus we have dealer-level diagnostic equipment on-site. This means shorter wait times (certainly compared to the dealer) and we can get your diesel truck back on the road.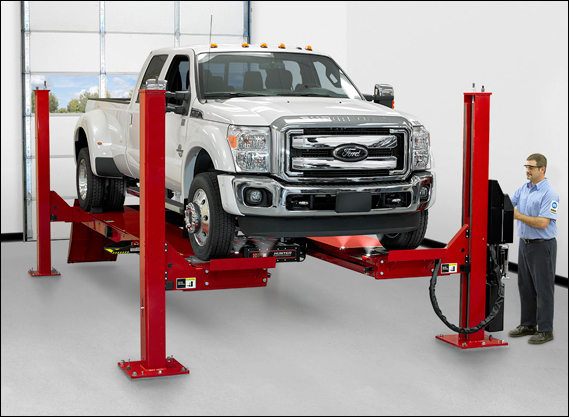 We recently added a brand new Hunter's extra-wide 26" runways on a four-post lift! Hunter's L451 four-post lift now features extra-wide 26" runways. The new generation four-post lift family is available in long or standard runway length and open- or closed-front configurations. Servicing a wider range of vehicles including dual axle and large capacity vehicles is easy on the new 26" wide runway. We are the only independent diesel repair shop in North Texas with this state-of-the-art equipment!
Buying a new diesel truck is expensive, so we help you maintain your Ford Power Stroke engine!  We repair diesel engines including parts for for the 6.0L, 6.4L, 6.7L and 7.3L diesel engine:
belts and hoses for the Power Stroke

,

 Duramax and Cummins diesel engines
diesel exhaust kits
glow plugs
oils, chemicals and lubricants
cooling system (radiator, waterpump)
coolant filter kits
fuel/water filter kits
diesel exhaust fluid system
injectors
oil change with filter
air filter
oil cooler
EGR cooler
ARP head studs
Performance SCT Tuning
Power Stroke diesel fuel additives (including Rev-X brand)
performance diagnostics (dealership-level)
Jeffrey's Diesel provides a competitive price and quality customer service to be your Power Stroke diesel repair shop in the Fort Worth, Keller and North Richland Hills area. Using the  latest dealership-level diagnostic equipment available, our certified diesel mechanics in Fort Worth accurately troubleshoot Ford Power Stroke diesels and perform repairs with excellence. That means you can be confident that your Powerstroke diesel engine is in good hands – customer satisfaction is our #1 priority!
Jeffrey's Diesel Repair can service your fleet of vehicles – we offer FULL service & repair on all diesel engines, 3/4 ton and 1 ton.
We specialize in Power Stroke service and repair. Our ASE master technician has years of experience and Jeffrey's has repaired thousands of Powerstrokes. We know diesel trucks inside & out. We know your Powerstroke diesels. We develop long-term customers who not only come back to our shop, but refer their friends to Jeffrey's diesel repair shop.
Contact us today to setup an appointment to repair your Ford Power Stroke diesel engine.  We can fix it!
* We service Ford Power Stroke, Chevy Duramax, Dodge Ram Cummins, all 3/4 ton and 1 ton diesel trucks.