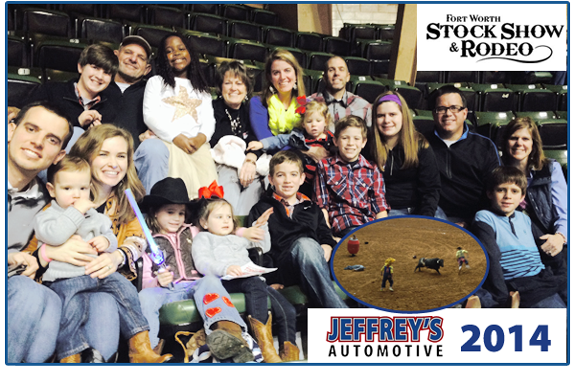 At Jeffrey's, we are proud to be family-owned and operated for 35 years!
When looking at automotive repair facilities, it's important that you know we are family-owned and operated.  Our current on-site management team includes Morton Jeffrey (Owner), Tony Brooks (General Manager), Andy Jeffrey (Service Writer), and Kelly Jeffrey Vaughn (Customer Relations).  Tony is married to Kelly's sister, Becky, and have 4 children!  Andy is the proud father of 2 children and married to Jessica.  Kelly is married to Randy Vaughn, with 4 children.  Sam Jeffrey and his wife, Emille, live in the Washington D.C. area with 4 children.  Morton and his wife, Suzy, have been married for over over 40 years!
Recently, all the Fort Worth-based members of the Jeffrey family enjoyed an annual family tradition at the Fort Worth Stock Show & Rodeo!
[Click here to look back at several previous years at of one Fort Worth's signature events!]