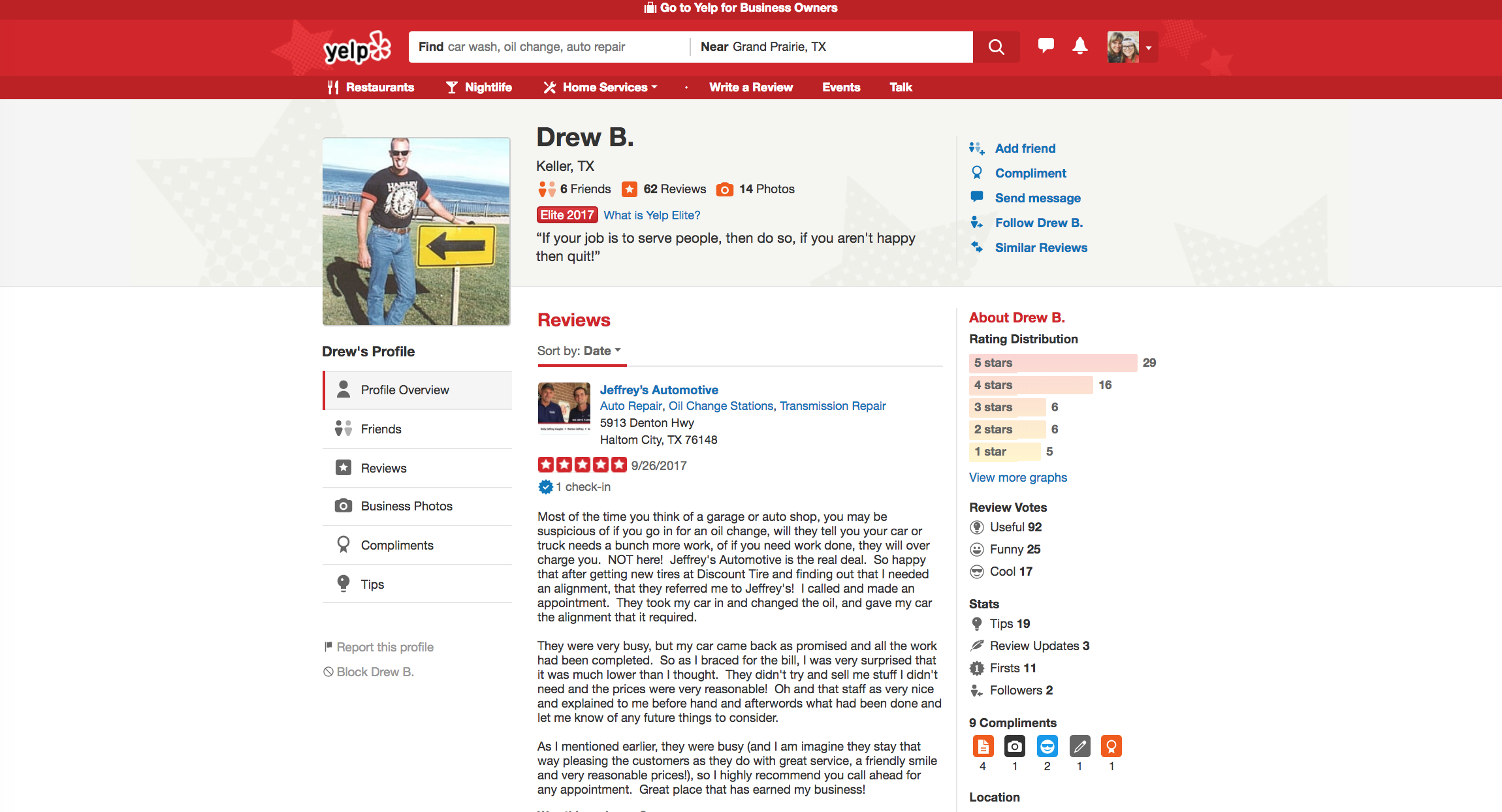 The mechanic industry is no doubt characterized in TV shows as being a place that manipulates or tries to pull some fast one on the customer. We recognize the look when some people walk into our shop. They are sometimes defensive, emotional and as one reviewer put it "suspicious". We understand and want to do our very to change your mind about auto mechanics.
Recently, Drew from Keller, wrote a review on Yelp about his experience. He writes:
"Most of the time you think of a garage or auto shop, you may be suspicious of if you go in for an oil change, will they tell you your car or truck needs a bunch more work, of if you need work done, they will over charge you. NOT here! Jeffrey's Automotive is the real deal. So happy that after getting new tires at Discount Tire and finding out that I needed an alignment, that they referred me to Jeffrey's! I called and made an appointment. They took my car in and changed the oil, and gave my car the alignment that it required. They were very busy, but my car came back as promised and all the work had been completed. So as I braced for the bill, I was very surprised that it was much lower than I thought. They didn't try and sell me stuff I didn't need and the prices were very reasonable! Oh and that staff as very nice and explained to me before hand and afterwords what had been done and let me know of any future things to consider. As I mentioned earlier, they were busy (and I imagine they stay that way pleasing the customers as they do with great service, a friendly smile and very reasonable prices!), so I highly recommend you call ahead for any appointment. Great place that has earned my business!"
We love reviews like this from Keller customers as well as NRH, Southlake, Colleyville and greater Fort Worth area customers.
Give us a call: 817-485-7340 or click for an appointment