Pricing.
Customer service.
When many people think about the mechanic industry, "pricing" and "service" are often spoken about in negative tones. So when a recent Fort Worth customer, Joe D., wrote his Google review, we just had to share it.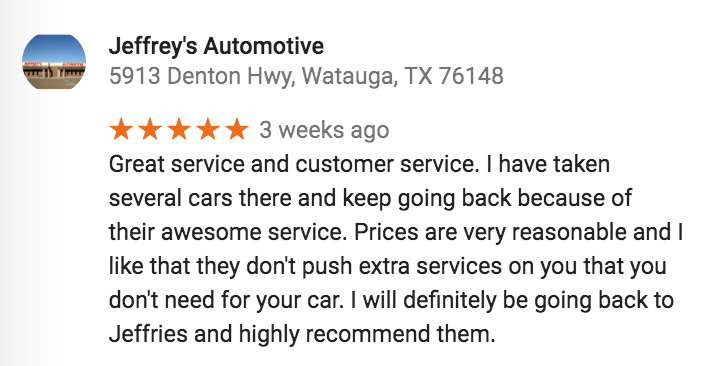 North Fort Worth customer talks about mechanic's customer service and pricing
Here is some of what Joe said:
"Great service and customer service. I have taken several cars there and keep going back because of their awesome service. Prices are very reasonable and I like that they don't push extra services on you that you don't need for your car."
In a review in 2016, one of our Keller customers, Monica H., also said this:
"We have used Jeffery's for years. Recently we had our car at the dealership for a warranty issue. Since it was there, we went ahead and had work done. It was considerably more expensive than Jeffery's and they recommended a ton of work. Took it back to Jeffery and got better pricing. Plus some of the things the dealership recommend apparently were not necessary according to Jeffery's. We won't be venturing off from Jeffery's again. Always love working with Tony and Andy. Everyone else there is great as well."
While no auto repair shop should ever promote themselves as the "cheapest place in town" (that's not what you value the most when it comes to getting your car back on the road safely), we do invite future customers to let us give you a quote on repairs. We always quote you a price BEFORE we get your agreement to proceed, so please give us a call or make an appointment.
CALL 817-485-7340