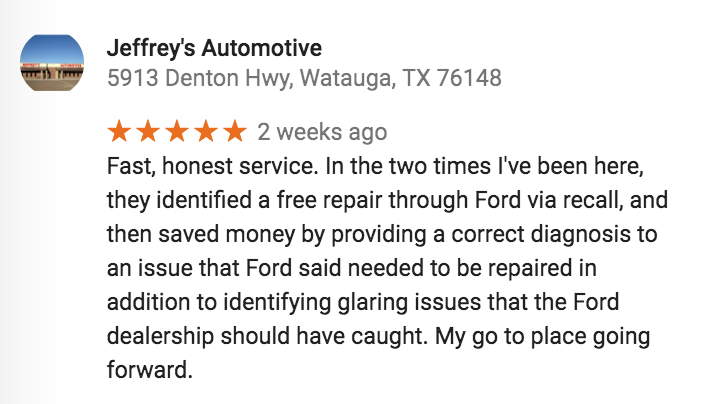 In the northeast Tarrant area, there are literally hundreds of auto repair facilities. So we are aware that not only are we competing for your business with many reputable small businesses, we also know that many people continue to go to the dealership for their repairs, long after their warranty is up.
We value our customers we have had over the past almost 40 years. Thousands of repeat customers tell us all the time that they love coming to a family-owned shop. So when David came in this summer for the first time, we were happy to make a new (and hopefully a new lifetime customer):
David lives in the Park Glen area of north Fort Worth right between Watauga and Keller. Here's what David said in his recent Google review:
"Fast, honest service. In the two times I've been here, they identified a free repair through Ford via recall, and then saved money by providing a correct diagnosis to an issue that Ford said needed to be repaired in addition to identifying glaring issues that the Ford dealership should have caught. My go to place going forward."
We know there are many great dealerships around as well, but we hope that our 40 years of serving customers proves that we can service your car just as good as anyone can. You can read thousands of reviews on our website to see what people are saying (we have reviews dating back to 2010 so there are many pages of them to read through if you are interested!)
If you live in Watauga, Keller or anywhere in north Fort Worth, we want to be your nearby family-owned mechanic shop.
CALL 817-485-7340