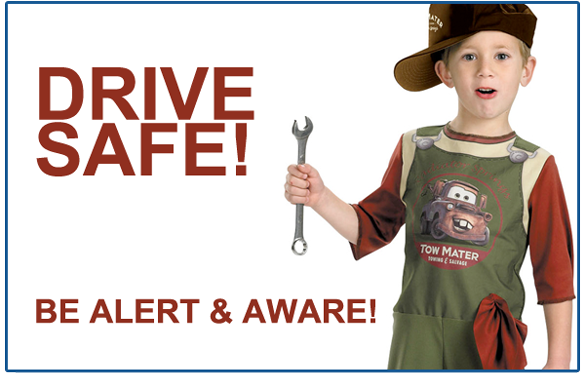 At Jeffrey's Automotive, safety is our #1 priority – so please be aware as you drive home, out to dinner or out with the kids tonight around the Fort Worth area. More than twice as many children are killed in pedestrian-car accidents on Halloween between the hours of 4 p.m. and 10 p.m., compared with the same hours on other days throughout the year, according to the National Highway Traffic Safety Administration.  That is sobering and requires all driving adults remain alert and aware on the road Halloween evening.
Some tips for drivers:
Please do not drive while looking at your mobile device!  Texting, Facebook or even looking at a map can wait or might necessitate pulling off to the side of the road (or handing the phone to the person in the seat next to you).
Drive with your lights on, even earlier than normal.  You do not drive with your lights on to see, but to be seen.
Slow down – treat the neighborhoods like you are in school zones.  It will not hurt you to lower your speed by 15 mph when driving around residential areas.
Do not assume kids (especially crazy teens) will use the crosswalks – so remain alert not only to the road, but to those pedestrians looking to cross the street.
Some tips for escorting parents of trick-or-treaters:
Bright colors are great for costumes.  If they have to wear black, make sure they are not leading the pack of kids.  You want to wear bright clothing yourself.
Do not assume you have the right-o-way.  Always yield to the larger machine on the road and take your time crossing the road.  Always use a crosswalk even if you think it is a little inconvenient.
Pay attention to blind spot corners.  Unaware drivers are not usually expecting small children in the road around the corner from their house, so please keep the kids on the sidewalk and not right on the curbs.
You may wish to find an indoor event at a community center or local church.  This keeps the kids off the streets and inside where it is much safer.
Be alert and aware and have fun!