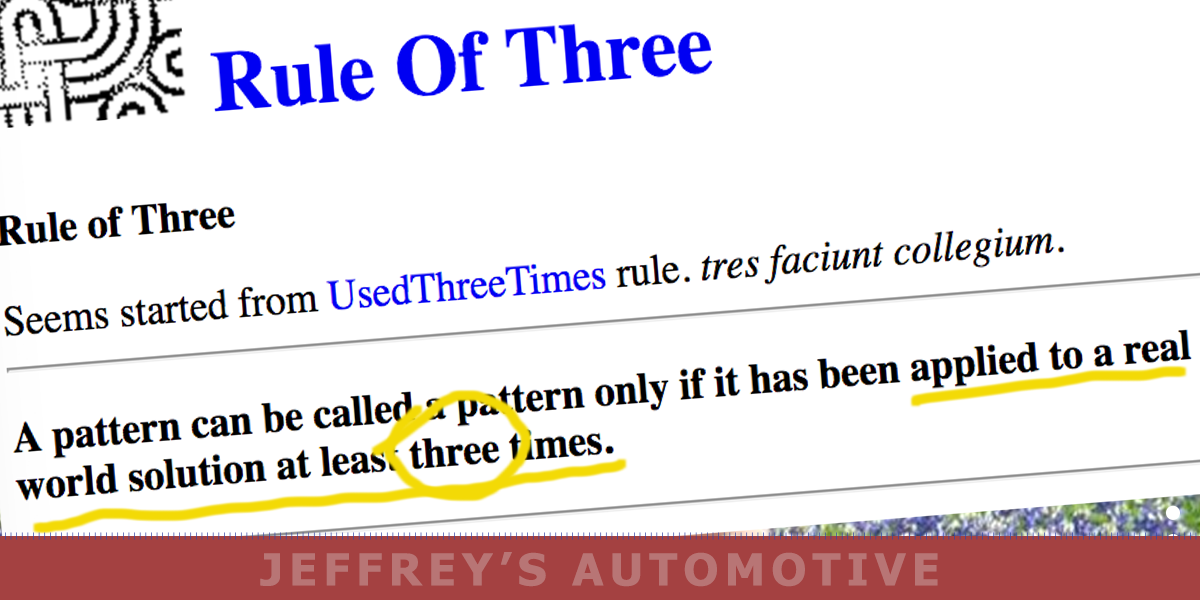 You may have heard about the "Rule of Three". It goes like this:
"A pattern can be called a pattern only if it has been applied to a real world solution at least three times."
Certainly, every person has their own subjective definition of what is "reasonable" when it comes to paying for something. It depends mostly on perceived value, how they were treated and the quality of work they receive.
In the car care business, we encounter all kinds of customers. You can read the THOUSANDS of customer reviews by clicking here – it's amazing the consistent words our customers use.
Since a pattern can be defined has happened 3 times, one thing that we recently noticed was the repeated customer comments about the "reasonable prices" at Jeffrey's Automotive. We saw that not only in 3, but in 6 customer views in the last 12 months, customers from North Richland Hills (Pam H.), Southlake (Kyra B.), Keller (Troy A.), Fort Worth (James A.), Keller, (J.Knight) and south Fort Worth (Moore) have commented with the same phrase:
"reasonable prices"
Again, other customers may have a different definition of "reasonable" . . . but we also know that 6 customers in 12 months saying the same thing does represent a pattern – and this is even double of how a pattern is normally defined (3x).
Here's what all 6 recent customers said:
Moore of Fort Worth: "Have used Jeffrey's for years now and couldn't be happier! Wonderful team of people who do it right and have

reasonable prices

. I live in south Fort Worth and I will continue to brave the traffic to take my vehicles to Jeffrey's Automotive on the north side of Fort Worth, and considering I live less than 10 minutes from a dealer that is saying something. Try them and you won't be disappointed."
Hull of NRH: "Great experience. In and out within 24 hrs! Repairs are done at a

reasonable price

. Very friendly and great customer service. Hope I don't need them again soon but if I do I know where to go!"
KB of Southlake: "I have been very pleased with the service and follow-up at Jeffrey's Automotive. They have taken great care of my Toyota and

their prices are fair and much more reasonable than the dealership

. They always follow up to check that the work was completed satisfactorily. I highly recommend their services."
Troy of Keller: "First time at Jeffrey's after being referred to them by Discount Tire. To keep it short, they do a great job at a

reasonable price

. Will definitely go back even though it's not the most convenient shop from where I live."
JK of 76248: "Did my alignment for a

reasonable price

. Great work, no problems. Would recommend Jeffrey's."
James of Fort Worth: "These guys know what they are doing and get it done at a

reasonable cost

. They perform regular servicing at considerably less cost than the dealership. I have no problem in recommending this firm to anyone."
So, if you are looking to be "reasonable" yourself, click below to schedule your appointment. WE CAN FIX IT!