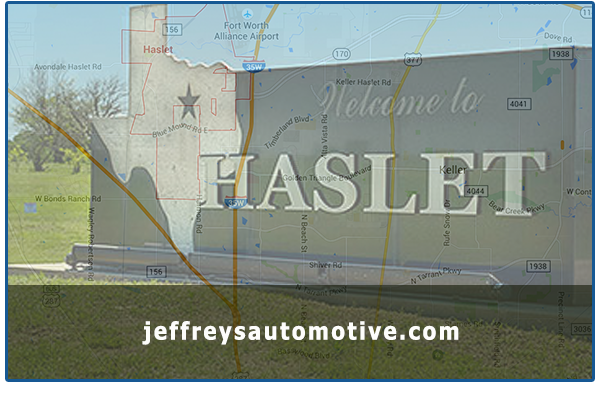 We have customers from around the greater Fort Worth area, including North Richland Hills, Watauga, Arlington, Southlake, Roanoke, Irving (Dallas county), Keller and from the community of Haslet.
Here are some of their own words:
Chuck Tackett: Great service! They told me it would take about an hour and to my surprise that is exactly how long it took.
Francis Wilks: Jeffrey's is always very professional and friendly at the same time. They have been my go-to guys for several years now and I recommend them to anyone who has a need for their vehicle. I feel I can trust them when they tell me something needs done and they listen when I tell them what my car is doing. I am very thankful for a place like Jeffrey's to keep me safe and on the road.
Gracie Reed: I always get great service.
Mikle Hartz: Great, friendly and honest service!
Greg and Amy Johnson: Best place to get your car worked on!! Hands down!!
Read these and thousands of other customer testimonials.
If you are in the Haslet/Alliance/BlueMound area, we want to be your mechanic for maintenance and repairs.