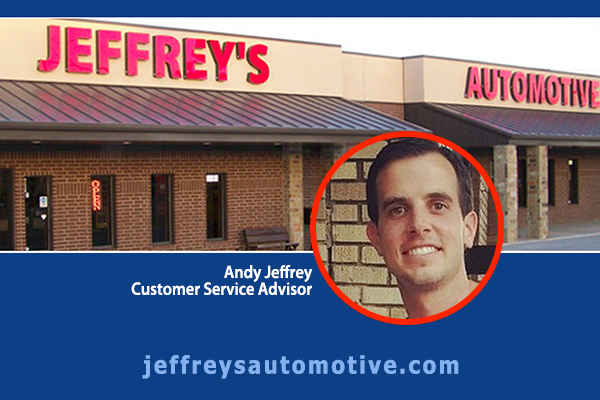 At Jeffrey's Automotive, we have 5 customer service advisors who love serving customers!
Andy Jeffrey is regularly acknowledged by our customers for a high level of customer service. In a recent review from one of our customers, Andy is recognized for going "above and beyond to help"!  Also, check out some of the recent words of praise from different customers around Keller, North Richland Hills and the greater Fort Worth area:
[click to view larger image]

"Andy went above and beyond to help with our situation. We ultimately had to put our car out to the pasture but I really appreciate all that Andy did to try and help us out."
~ Ginger Giurbino, Fort Worth
* * *
See other reviews below about Andy . . .
* * *
"Andy was very nice over the phone and again in person. The service was amazingly quick and I was literally stunned when I was not charged! It made me feel as though this shop would not lie to me or attempt to gouge me and being female, that can be a problem at too many shops."
* * *
"Andy was very helpful and when they told me I have a problem they showed me also most other places I have been to tell me a problem then won't show me and that's just fishy but they actually showed me and explained to me what's wrong and they were great on pricing! Love this place that got a lifetime customer out of me and my family!"