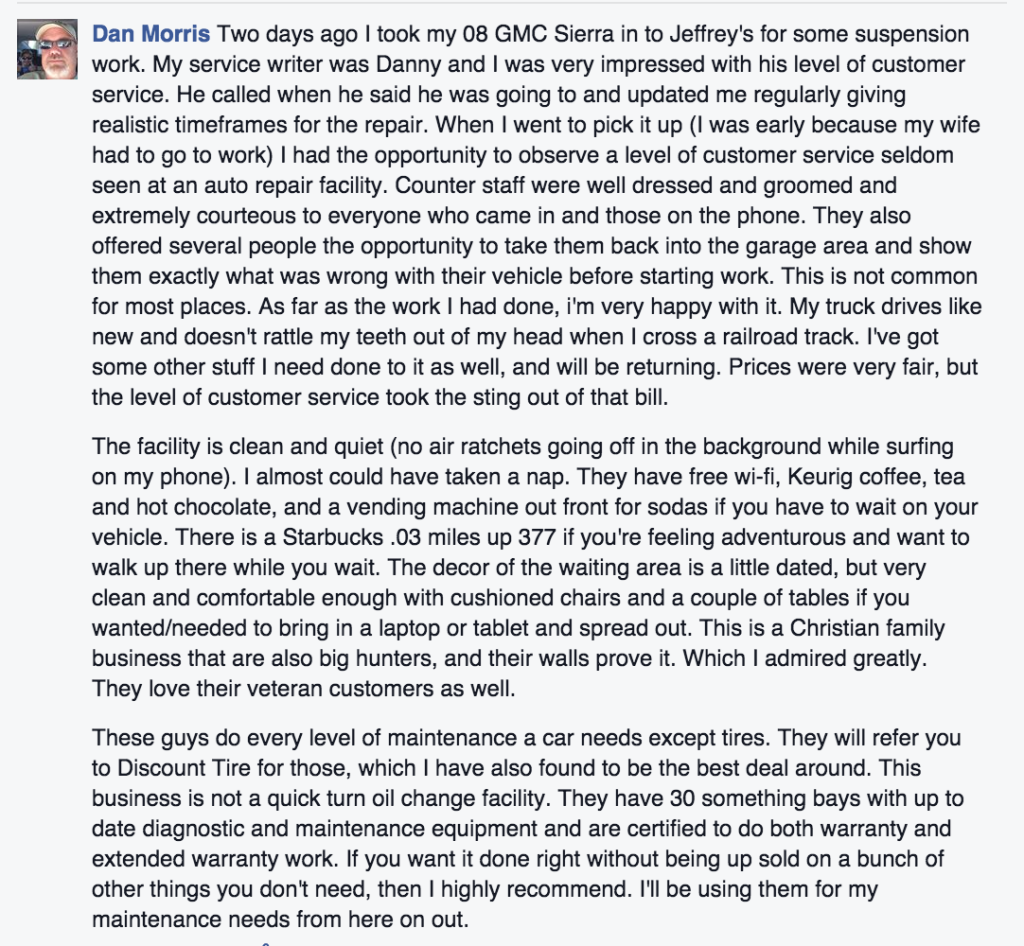 We love showcasing the reviews of our customers from Southlake, Watauga, North Richland Hills, and all over Fort Worth. Check out this lengthy but raving review from Dan Morris from Keller.
"Two days ago I took my 08 GMC Sierra in to Jeffrey's for some suspension work. My service writer was Danny and I was very impressed with his level of customer service. He called when he said he was going to and updated me regularly giving realistic time frames for the repair. When I went to pick it up (I was early because my wife had to go to work) I had the opportunity to observe a level of customer service seldom seen at an auto repair facility. Counter staff were well dressed and groomed and extremely courteous to everyone who came in and those on the phone. They also offered several people the opportunity to take them back into the garage area and show them exactly what was wrong with their vehicle before starting work. This is not common for most places. As far as the work I had done, I'm very happy with it. My truck drives like new and doesn't rattle my teeth out of my head when I cross a railroad track. I've got some other stuff I need done to it as well, and will be returning. Prices were very fair, but the level of customer service took the sting out of that bill.
The facility is clean and quiet (no air ratchets going off in the background while surfing on my phone). I almost could have taken a nap. They have free wi-fi, Keurig coffee, tea and hot chocolate, and a vending machine out front for sodas if you have to wait on your vehicle. There is a Starbucks .03 miles up 377 if you're feeling adventurous and want to walk up there while you wait. The decor of the waiting area is a little dated, but very clean and comfortable enough with cushioned chairs and a couple of tables if you wanted/needed to bring in a laptop or tablet and spread out. This is a Christian family business that are also big hunters, and their walls prove it. Which I admired greatly. They love their veteran customers as well.
These guys do every level of maintenance a car needs except tires. They will refer you to Discount Tire for those, which I have also found to be the best deal around. This business is not a quick turn oil change facility. They have 30 something bays with up to date diagnostic and maintenance equipment and are certified to do both warranty and extended warranty work. If you want it done right without being up sold on a bunch of other things you don't need, then I highly recommend. I'll be using them for my maintenance needs from here on out."
Wow, thanks Dan!