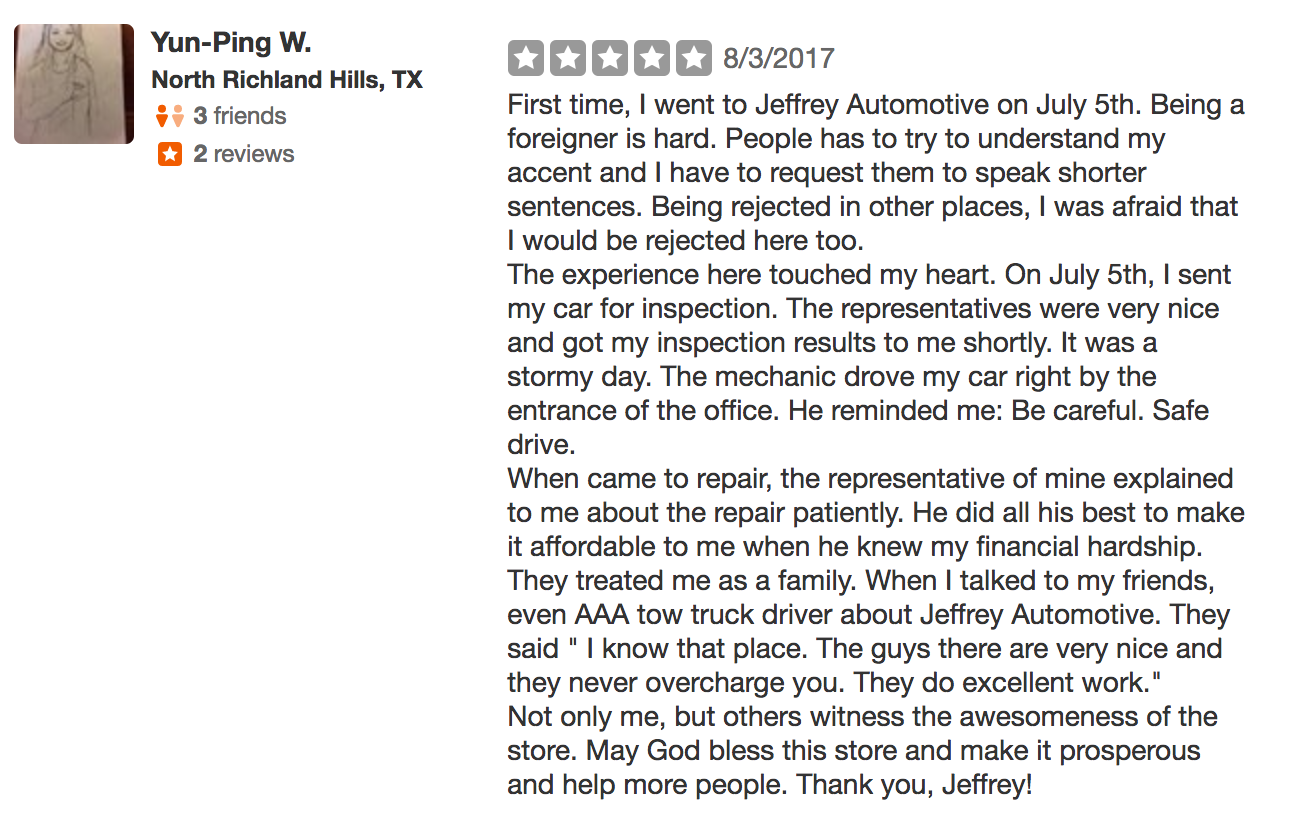 Ping Wu, a new customer at Jeffrey's Automotive living in North Richland Hills, describes an experience common to many individuals from foreign countries.
"First time, I went to Jeffrey Automotive on July 5th. Being a foreigner is hard. People has to try to understand my accent and I have to request them to speak shorter sentences. Being rejected in other places, I was afraid that I would be rejected here too. The experience here touched my heart. On July 5th, I sent my car for inspection. The representatives were very nice and got my inspection results to me shortly. It was a stormy day. The mechanic drove my car right by the entrance of the office. He reminded me: Be careful. Safe drive. When came to repair, the representative of mine explained to me about the repair patiently. He did all his best to make it affordable to me when he knew my financial hardship. They treated me as a family."
We love it when customers at an auto repair shop say they feel like, "FAMILY"! This is awesome.
On top of that, Wu offers this additional word of blessing for our shop:
"When I talked to my friends, even AAA tow truck driver about Jeffrey Automotive. They said " I know that place. The guys there are very nice and they never overcharge you. They do excellent work." Not only me, but others witness the awesomeness of the store. May God bless this store and make it prosperous and help more people. Thank you, Jeffrey!"
We have had plenty of Jeffrey family members visit and reside in foreign countries. We understand the challenges of cross-cultural communication. And we love the many people of peace who have blessed our family members in their travels and experiences of living in foreign lands. So love it that we can return the favor and offer peace to others. God is so good!
If you are looking for a mechanic for auto repairs or maintenance on your car or truck, we invite you to join the larger family of customers at Jeffrey's Automotive! Call 817-485-7340 or click below to schedule your appointment.