Click here for additional Jeffrey's Automotive articles about brakes and brake repair.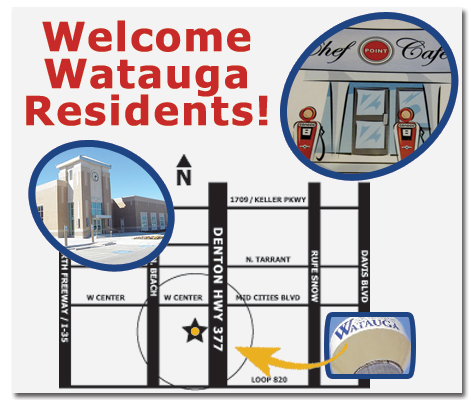 Situated at the line of Watauga and Haltom City, Jeffrey's Automotive has a long history of 30+ years of serving the Watauga community with quality brake repair, A/C repair, engine repair and all the other standard repair and maintenance needs for cars and trucks. We're proud of serving the community positioned at the crossroads of Denton Hwy 377 and streets like Mid Cities Blvd (Watauga Rd), Chapman, Hightower and Bursey.  And we love it that we are just minutes from the world famous Chef Point Cafe, our area's 5-star restaurant in a gas station (featured on the Food Network!)   Watauga customers make up a high percentage of not only new customers, but repeat customers as well.
If you are in the 76137 area in North FW on the west side of 377, or on the east side of Denton Hwy, we are your neighborhood mechanic you can trust – just ask some of our recent NRH customers (click on image to view full size):



These are just a few of our satisfied Watauga customers – to read more customers from Watauga, and hundreds from around Tarrant County, visit our testimonial page to read reviews of one of Watauga's well-respected mechanics!
Brakes wear out over time requiring service. How long they last is based on various things such as driving conditions, how you brake and other factors. For this reason, it is necessary to service your brakes regularly. We know that your brakes need care.
When it comes to your car's safety, brakes top the list of systems that need monitoring. However, many people are unaware of the signs that indicate a car's brakes may need maintenance or repair.
For routine maintenance:
HAVE YOUR BRAKES CHECKED – it's important to check the vehicle's braking system at least once a year. A thorough inspection should include brake lining wear, brake fluid level, rotor thickness, condition of hoses and brake lines, brake and dash warning lights, as well as taking the car for a test drive to detect other potential brake system problems.

INSPECT FOR BRAKE PROBLEMS

– It is also important to be alert and recognize the danger signs of brake problems. Other warning signs include an illuminated brake warning light, brake grabbing, low pedal feel, vibration, hard pedal feel and squealing.
There's no room for second best when it comes to your brakes. Our professional, licensed technicians ensure that your vehicle is safe and that your brake system provides maximum protection and stopping power.
The experienced technicians at Jeffrey's Automotive are trained and certified to service and repair all your vehicle's braking system needs – import and domestic. We also guarantee that all parts installed on your vehicle meet and/or exceed the manufacturer's specifications.
However, the use of quality brake parts is only the start of our quality brake service. It continues with doing the job correctly, not taking short cuts, and providing you with a brake system you and your family can not only trust, but count on.
We can perform the following:
Testing and inspection of pulls, noises, fading or other braking problems
ABS system testing, service or repair
Complete disc brake service or repair
Complete drum brake service or repair
Wheel cylinder and caliper replacement
Master cylinder service or repair
Parking brake service or repair
Brake fluid flush and service

We are conveniently open:
Mon – Fri 7:30 a.m. – 5:30 p.m.
Click here for map and directions*
*To give you an idea, we are in the Watauga/Haltom City area, just south of Mid-Cities/Western Center off Denton Hwy 377. You can also find us 1 mile north of Loop 820 just past Braum's and across from Joe's Coffee Shop!
Our service writers are eager to help, so call or click to make an appointment:
817-485-7340