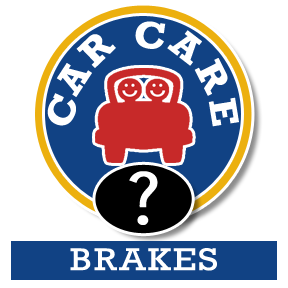 That's a hard question to answer. There are many factors that go into a quality brake repair job. While some companies may advertise a super low price, you have to watch out for other costs that you don't hear about on the radio or read even in some find print.
The best answer we can offer is to say that a brake inspection is ABSOLUTELY FREE!
Brakes do wear out over time requiring service. How long they last is based on various things such as driving conditions, how you brake and other factors. For this reason, it is necessary to service your brakes regularly. We know that your brakes need care.
When it comes to your car's safety, brakes top the list of systems that need monitoring. However, many people are unaware of the signs that indicate a car's brakes may need maintenance or repair.
For routine maintenance:
HAVE YOUR BRAKES CHECKED – it's important to check the vehicle's braking system at least once a year. A thorough inspection should include brake lining wear, brake fluid level, rotor thickness, condition of hoses and brake lines, brake and dash warning lights, as well as taking the car for a test drive to detect other potential brake system problems.
INSPECT FOR BRAKE PROBLEMS – It is also important to be alert and recognize the danger signs of brake problems. Other warning signs include an illuminated brake warning light, brake grabbing, low pedal feel, vibration, hard pedal feel and squealing.
So while we wouldn't be fair to quote you a price in this article, we can assure you that when you do your FREE BRAKE INSPECTION with our Fort Worth brake repair service department, we will inspect your brakes, even show you the wear and tear (if any), and give you a detailed quote before starting any work. You won't be brought in with the lure of some gimmicky promotional price only to be hit with a surprise bill with miscellaneous charges. Ask for the OTD price – what you pay "out the door"! We'll give it to you straight.
Here's what one of our Fort Worth customers recently said about their brake service (click on customer review below to see larger image):

At Jeffrey's, we offer complete car care, including a quality brake inspection. If you are worried about how much a brake check costs, don't worry! Click on the button below and schedule your appointment today for your FREE brake check: