At Jeffrey's Automotive, we have thousands of repeat customers and have had some of them for most of the 33 years we've been in business here in the north Fort Worth area!   We have some incredible conversations with men and women from all walks of life, and many of you are doing remarkable things in our community and around the world.
We are launching a new series where we feature some of the achievements and contributions of some of our great customers!  This should be alot of fun,  because in lieu of talking about automotive repair, we get to talk about our customers!  They certainly talk alot about us, so now is our chance to turn the tables and brag on you!
Our first feature is our dear friend, Nika Maples, a long time friend of the Jeffrey family.  Nika has an incredible story of courage, perseverance and overcoming all the odds.  She was recently the Texas State Teacher of the Year and just launched her book, "Twelve Clean Pages."  It's amazing.
Nika gave us a great review several months ago, and I wanted to share it again with you (click the image below to enlarge the snapshot directly from her review on Insider Pages):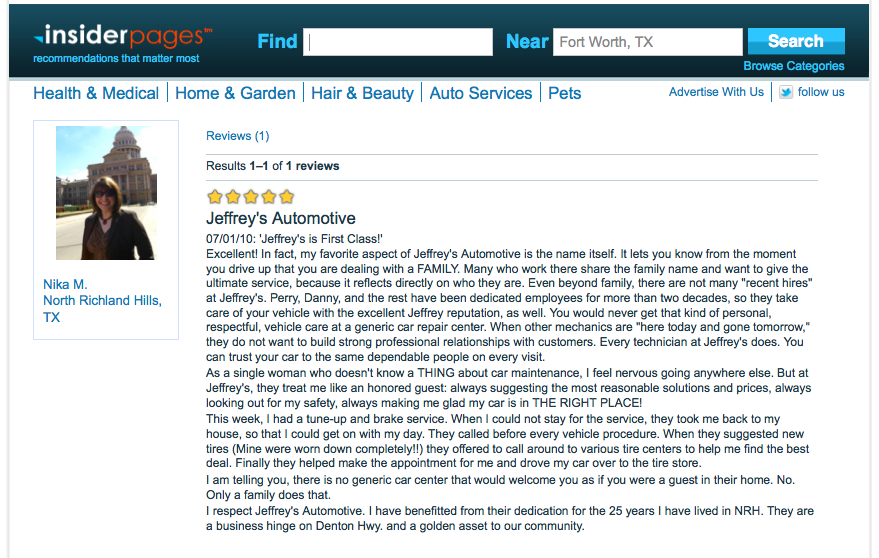 But our most recent favorite Nika achievement is when she recently completed the Cowtown 5K in downtown Fort Worth!  Nika, we celebrate this huge accomplishment and rejoice in the way the Lord is using your life to bless so many people.  Thanks for being such a loyal customer but more importantly, a great friend of the Jeffrey family.  Keep inspiring thousands!
Cowtown 5k 2012 from Nika Maples on Vimeo.