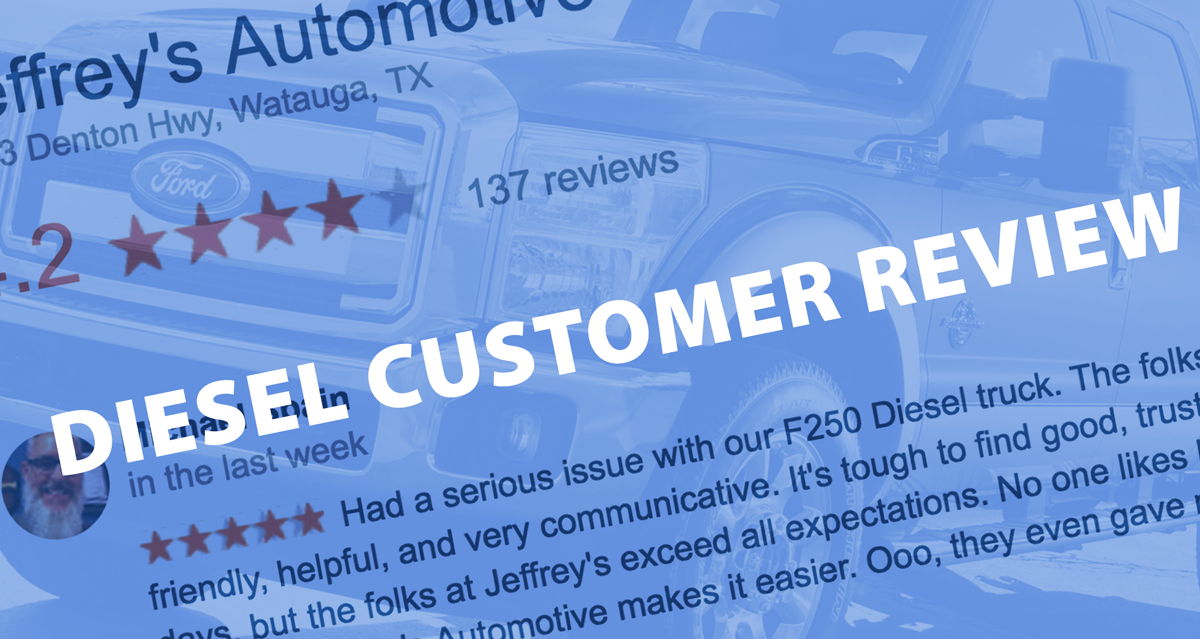 Our Diesel Center fills up each week with Ford PowerStrokes, Chevy Duramax trucks or Dodge Cummins diesel trucks. Our master technicians know diesel trucks (check out our various stories about DIESEL truck customers).
This past week, a Southlake customer's Ford diesel truck came. The customer noted, "had a serious issue with our F250 Diesel truck."
So our ASE-certified Master Tech got to work and in 2 days returns the diesel truck back safely on the road.
Here's what Michael said about his Dad's truck and the experience at Jeffrey's:
"The folks at Jeffrey's Automotive were friendly, helpful, and very communicative. It's tough to find good, trustworthy, honest mechanics these days, but the folks at Jeffrey's exceed all expectations. No one likes having to get your car fixed, but going to Jeffery's Automotive makes it easier. Ooo, they even gave me free coffee!"
Read here about our coffee service that Michael mentions!
We have thousands of customers each year who need vehicle repair and maintenance. We love helping our diesel customers, many who find the experience at Jeffrey's better than their dealership). If you have need of repair or service on your diesel truck, call us at 817-485-7340 or click below for an appointment.