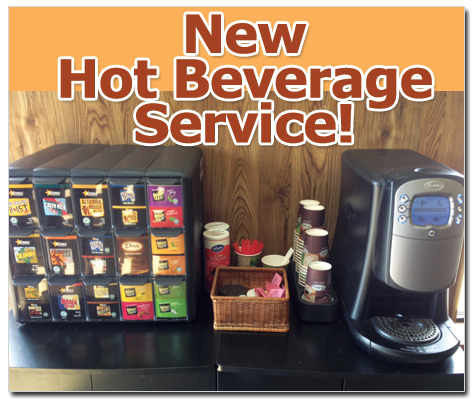 We continued to receive positive reviews every week from satisfied customers.  Priscilla Oglevie made this comment on our Jeffrey's Automotive Facebook page last week:
Thankfully, I don't have to drive too far to Jeffrey's Automotive, but I would! I have been a customer for several years and will continue to choose Jeffrey's Automotive Repair for my auto repair needs in the future. It is a great feeling to be able to trust that I will be treated honestly and fairly. It is owned and operated by a Christian family who truly live what they believe. It's always a pleasure to do business with them and to refer others knowing that they will have a great experience, too!
We continue to strive to enhance every customer's experience – so in addition to the cold soft drink vending machine, we now have our new complimentary hot beverage service! Get your flavored coffees, hot tea or even hot chocolate (for the kids – and adults, too).
Also, if you've driven by our automotive repair shop on Denton Hwy, you will notice some construction going on.  We are in the process of remodeling our facade – we're thrilled about how it is going to transform the look of our main building!  But please note, even during construction, we remain open to help you fix those noisy brakes, check that A/C in this warm weather, or any other maintenance or repair needs for your vehicle.