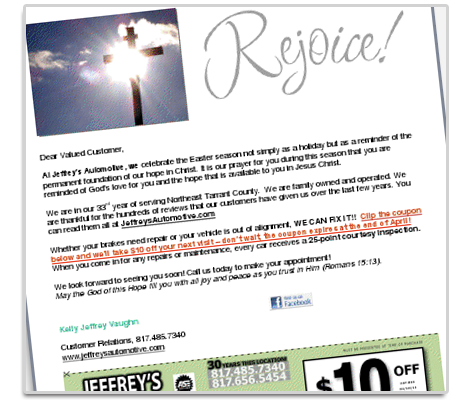 Recently, one of our customers brought to us a copy of one of our monthly newsletters.   The thing that Ben loved about this month's newsletter was the picture in the headline.
A family-owned business with a strong commitment of faith, we proclaim our Christian beliefs in many ways through our active involvement in the community, in our Resurrection Celebration newsletter mentioned above, and even on our digital sign's weekend Scripture messages (we may talk "car talk" during the week, but each weekend a new set of inspirational passages from the Bible are displayed – and we get great comments from customers about this!)
A recent review from Ryan (3/27/12 on our Google Place Page) agrees:
Ryan, 03/27/12, via Google

I have been using Jeffrey's Automotive for almost 15 years. Andy and crew are extremely professional and will always do whats right by the customer. Jeffrey's Automotive is not just the shop around the corner….. I have brought my vehicles to them from North Dallas because of their Christian values and the product they provide.
Here's another:
Fred Johnstone, 6/9/11, Bedford, via Demand Force

I went to Jeffrey's because I knew it was Christian based. I was really glad I did because I was treated with the utmost respect. The Service Writer was very explicit on what needed to be done and explained everything very well. I was very impressed with the whole operation. But then when God is in it, it always is. I am retired and was in the automotive repair industry for over twenty yrs. There are few places that treat u like this place does. They have a permanent customer from now on. Your employees' are very outgoing and very friendly. You are so blessed to have them in your work force. I was blessed to have come there.
You can read more by clicking on our testimonial page with hundreds of reviews of satisfied customers.  User your search feature (i.e., CTRL + F) and search for "Christian" and see how many customers mention this.  We are proud to say we are believers in Jesus Christ!