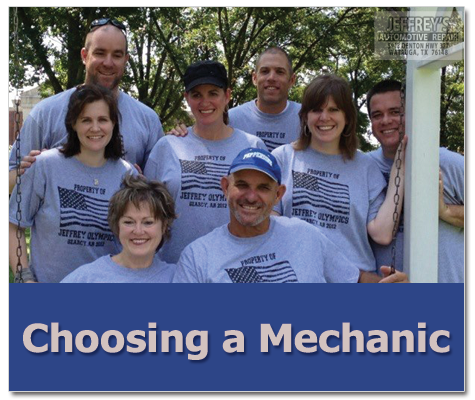 Is there a Christian mechanic in Fort Worth?  Sure.  There are many in our industry who are followers of Jesus.  The industry reputation may lead you to think otherwise, but we know of many in this area.  They are small businesses, often family-owned automotive repair shops, who tireless work to give their customers the best quality service with integrity.  That's who we are at Jeffrey's.
At Jeffrey's, we were established 34 years ago on a foundation of faith and trust that God would provide.  He has.  Our customer base has grown and grown and now we are serving thousands of repeat customers every year.
We know that customers are often looking for a Christian automotive repair shop in the Keller, North Richland Hills, Saginaw, Watauga, Colleyville, and Greater Fort Worth area.  While it would be contrary to the Bible to boast in ourselves, customers have often cited evidence for our Christian values:
Charity – we have partnered with community organizations like the Community Enrichment Center to provide food for the needy and have a long history with our public schools and Fort Worth Christian school.
Customer reviews – with hundreds of positive reviews online about Jeffrey's Automotive, we are confident that, when facing expensive car repairs or even regular maintenance,  you will put the most trust in the experiences of our satisfied customers.  We are humbled when they recognize our Christian values and how those values impact the service they receive on their vehicles.
Christian missions – Our family and management team has traveled the globe on church mission trips.  For years (although I can't find a picture of it now to show you), we had a fun T-shirt that read, "Jeffrey's Automotive – Known Worldwide".  Missionaries and national evangelists all over the world, notably in Africa, have been found to be sporting these Jeffrey's T-shirts and hats.  Someone in the family or on our management team has traveled to just about every continent on a mission trip.  In Africa alone, we have traveled to Benin, South Africa, Kenya, Mozambique, Nigeria, Togo, Sudan, and probably others.
Christian music – one of the comments we get often from happy customers is that they enjoy the Christian music in the lobby from the number #1 Christian radio station in America, 94.9 KLTY!  We have also joined then over the years in their annual KLTY Christmas Wish program.
Obviously, we are not trying to say that Jeffrey's Automotive is the only Christian mechanic in Fort Worth – there are others.  We invite you to come by our shop and visit with us and I think you'll understand the Christian values we hold dear.  While we are not perfect, we do our best to serve the Lord, honoring Him in the way we serve our customers, treat our employees and contribute to our community.
[CLICK BELOW TO SEE A LARGER IMAGE]