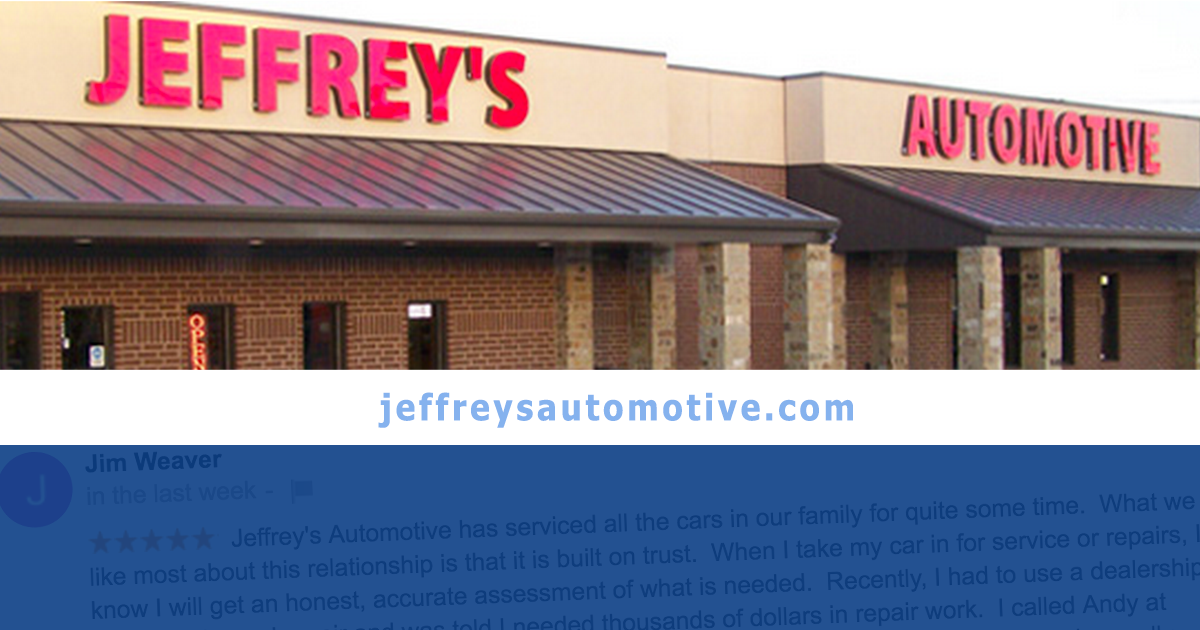 Jim Weaver, a Jeffrey's Automotive customer of over 10 years from Keller, shares his experience with Jeffrey's Automotive. He mentions Andy, a member of our on-site family management team!
Thank you, Jim, for your kind words!
"Jeffrey's Automotive has serviced all the cars in our family for quite some time. What we like most about this relationship is that it is built on trust. When I take my car in for service or repairs, I know I will get an honest, accurate assessment of what is needed. Recently, I had to use a dealership for an unplanned repair and was told I needed thousands of dollars in repair work. I called Andy at Jeffrey's to tell him what I was facing. He walked me through in plain English what was going really going on. Having just the bare minimum work done to get the car running again, I took it to Jeffrey's and got the work done that was needed for a fraction of the cost! I am always VERY SATISFIED when taking my car to Jeffrey's for regular maintenance of repairs."
Several things that Jim mentions:
Honest assessment – we have customers who come in, and after an assessment of their vehicle, walk out without needing repairs. It doesn't happen that way every time, but we commit to doing our best to diagnose if there is a problem to deal with right now.
Plain English – our 5 service writers upfront will greet you with a smile and do our best to speak to you in plain English. Some automotive terms are unfamiliar to many, so we will try and explain it in "plain English" (as Jim notes). Feel free to ask us to review it with you again if you do not understand.
Fraction of the cost – many customers bring their cars to us after finding expensive quotes at the dealership or at another mechanic. We do our best to compete effectively for your business. Having been in business for almost 40 years, we trust the value we offer our customers.
We have thousands of positive reviews from customers over the years. It is always encouraging to hear their words of affirmation. Click here to read the reviews of customers from Keller, Watauga, Southlake, Roanoke, Justin and so many other communities.
Call us if we can help you or click here for an appointment!
817-485-7340