In the month of January, we received 4 new reviews on Google – this helps us so much when customers in the Fort Worth area are searching for "car repair", "brake repair", "automotive repair", "mechanic" or any sort of combination that would land them on our site. We are thankful for every review we receive!
[we collect all the reviews from around the website on our website – see what over 1,000 customers have said about Jeffrey's Automotive!]
In these four 5-star reviews, price and service mattered the most:
"I absolutely love the customer service at Jeffrey's Automotive Supercenter. Every time I have taken my cars there for any service they have gone beyond they duty to give me the best service possible. The employees in the receiving area in the front of the shop are outstanding. Love this place." (Mike Hilton)
"Another repair center told me I would need other parts at a much higher price. Jeffrey's charged 1/3 the price to fix a headlight problem and install front struts. Upon completion of their work, my car passed state inspection and doesn't scrape bottom when I go over bumps. I will take future car repairs to Jeffrey's first!" (Dianne Miller)
"Great Experience! They were beyond helpful and were very reasonably priced. The service was quick and friendly." (Megan Winkler)
"Always a good experience at Jeffrey's. Good service team and front end people." (Taron Armour)
[click image below for larger view]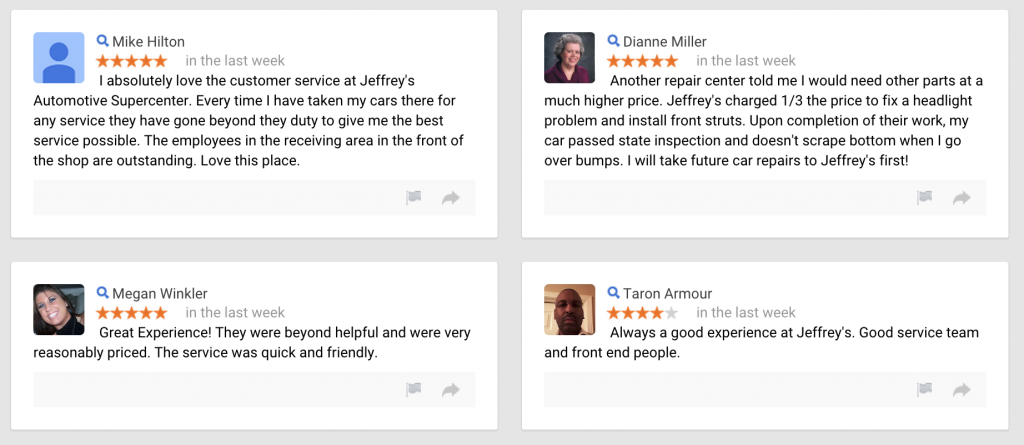 We love reviews from customers!