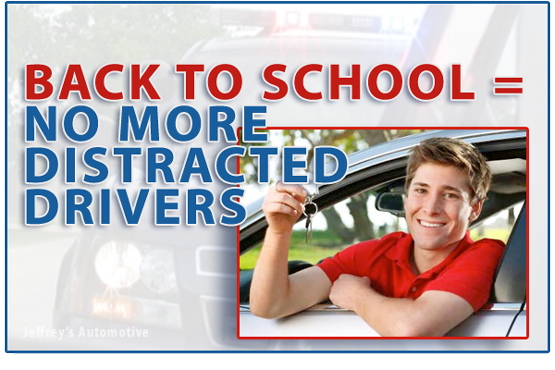 As our students go back to school this month, keep in mind that "distracted driving" is a far too common cause of motor vehicle accidents.  While school zones are banning cell phone use, common distractions include:
texting while driving
using social media while driving
checking your phone's map
eating while driving
putting on makeup or clothes while driving
reading your newspaper or business report while driving
reading a book on your iPad/Kindle/Nook while driving (don't laugh, I've seen it!)
loud music while driving
loud kids while driving
loud backseat friends while driving
listening to music/books with earbuds while driving
even sitting at a light and looking at your phone (you are often unaware of oncoming pedistrians walking across intersection or you don't notice the car running a red light)
 . . . and more!
OK, so it seems like the best strategy might be to just stay home!  Seriously, as you are headed to work or to drop off the kids at school, be cognizant of the many things that would distract you:
Watch for kids crossing the road (they may not always obey and cross where they are supposed to),
Obey posted speed limits (watch those areas around certain parks where the speed limit may drop to 20 mph) and
Don't just speed, but don't think you have to be the first driver into the intersection (it's a common feeling among teens to be out first)…they can miss the car speeding through the red light at the last minute
Be aware of other drivers who are distracted by all the things listed above!
Your vehicle is a powerful machine that must be maintained in order to be safe on the road.  In addition to environmental safety concerns mentioned above, make certain your state inspection is up-to-date and ensure your brakes are safe for driving around our Fort Worth, Keller, Watauga, and NRH neighborhoods!
If your teenage drive does find themselves into a fender bender, let Jeffrey's Collision Center be your first call. We can help you navigate the insurance world and get your car back out of the road looking great!
Jeffrey's Automotive Repair, call 817-485-7340
Jeffrey's Collision Center, call 817-485-6420