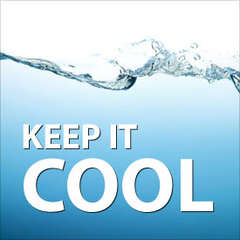 As we continue to weather the harsh summer heat here in the Fort Worth area, some of you may wish to better understand your car's air conditioner.  Some of the parts terminology may be familiar to you only in name, but sometimes our customers want to know more about what exactly these parts do.  So over the next few weeks, we'll share take a few articles to get to know the cooling system for your car better.
Before we get started, here's a quote we posted yesterday on our Jeffrey's Automotive Facebook page (you are a fan aren't you?):
"Cooling system neglect can cause the mechanical failure of a vehicle," said Rich White, executive director, Car Care Council, an automotive consumer education group. "In addition to the danger and inconvenience of a breakdown, the damage to the engine and transmission can add up to big bucks."
White added this comment when talking about keeping cool in your car:
A vehicle's heating, ventilating and air conditioning system (HVAC) keeps the interior cabin comfortable in any season by providing the right temperature and humidity level. Typical A/C service consists of the following steps:

A service technician checks pressures to test operation, refrigerant charge and outlet temperatures.
If the system is found to be low on refrigerant, a leak test is performed to find the source of the leak. Keep in mind that if your vehicle is leaking refrigerant, it is damaging the ozone layer.
Refrigerant may be added if necessary to "top off" the system, although some states do not allow "topping off."
A technician may also check for evidence of refrigerant cross-contamination, which is the mixing of refrigerants.
A/C service should also include a check of the compressor's drive belt and tension.

"Checking the A/C once a year is key to making sure your cooling system is running efficiently all year long," White said. "A properly running HVAC system will help improve your gas mileage, is more environmentally friendly and will keep you from losing your cool on the road."
If your sweating inside your car, that's not cool!  Stay cool – let Jeffrey's help!
Learn more about our services to optimize your car's air conditioner.