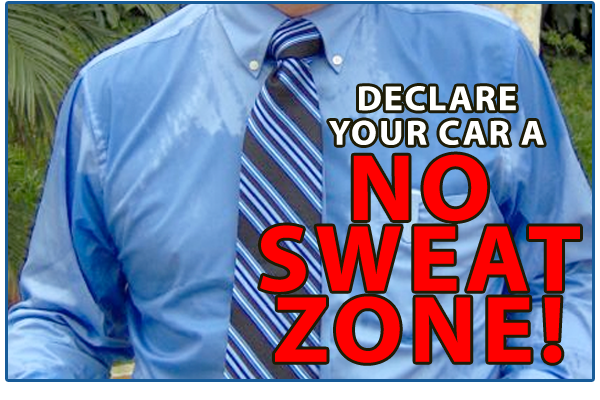 Of course it is!  It's just H-O-T!  But that's what we get when we live in Texas.  NOTE:  Members of our family-owned automotive repair management team are on a mission trip to Rwanda with our church, and it's actually in the 80s there!  The rest of us are trying not to be jealous of those temperatures.)
So when it's triple-digits outside, why suffer on the inside?  Here's how you know you need to get your A/C checked at Jeffrey's Automotive:
when you drive from North Richland Hills to Southlake Town Square and your A/C never quite starts cooling before you arrive;
when you leave your house in Saginaw and immediately roll down your window because the drive to work in downtown Fort Worth is too unbearable (even at 8:30am!);
when you go to the water park in NRH or Roanoke and all the kids in the back seat complain that it hotter inside than outside;
when your daughter refuses to invite her friends to ride with you on the way to the new Cinemark theater in North Fort Worth because she's embarrassed by the inside temperature (hey Mom, didn't you know that sweating ain't cool!);
when you sweat through your shirt on your way home from work in Arlington – ugh, it's not worth it!
There's no excuse!   While husbands and wives may not always agree with the exact temperature in the front seat, there is unanimous consent from all parties in the car that your vehicle should be declared a NO-SWEAT-ZONE!
Get an A/C check!  Our fully trained and factory authorized technicians can run an air conditioning performance test.  This test includes:
Air Conditioning System Check with Gauges
Temperature Test  at All Outlets
Inspection with Leak Detection Equipment
Cooling System Inspection
Inspection of Belts and Hoses
* Safety reminder:  it's too hot in any car to leave a child or a pet unattended in your vehicle, even if you crack the windows.  Let's be smart in caring for those for whom we care the most!  Stay cool!!