We know that customers are always looking for evidence ("social proof" as some call it) when looking at businesses online.  We know friends on Facebook about finding a good mechanic (read one FB recommendation of Jeffrey's in this post: "How Far Would You Drive To Find The Right Fort Worth Mechanic?").  Whether it is from Facebook, on Google, InsiderPages, or other review sites, we know our future customers value the opinions of our happy customers.  We have assembled all the many wonderful reviews on one single page on our website – click here to read the hundreds of reviews from customers at Jeffrey's Automotive.
One of the review sites some of our customers look at is Yelp.  Previously we looked at some positive reviews of Jeffrey's Automotive on Yelp (read: "Fort Worth Mechanic Reviews on Yelp").  In the past 6 months, two customers from Keller review Jeffrey's on Yelp – take a closer look below by clicking on the image to view it full size: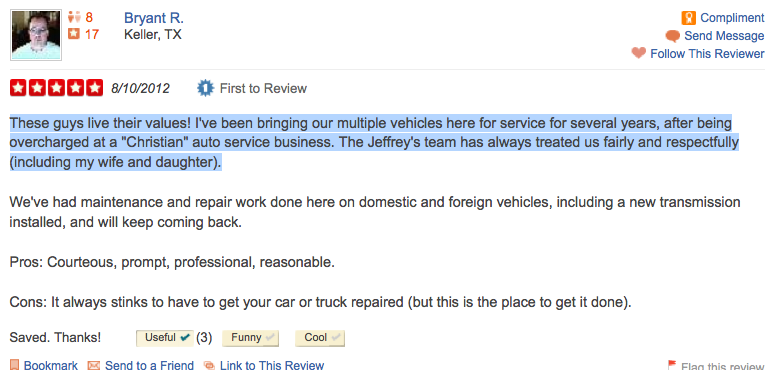 and another . . .

It's always rewarding to share the testimonies of our happy customers because it is their validation of our work in their own words!  In an industry like ours, we also appreciate customers who recognize and experience our Christian values.
Click here for other tips in choosing a mechanic.
If you are needing routine maintenance or you're worried that there's something major wrong, click below to set up your appointment. You'll receive a through explanation before any work is started. If you need a total car care coupon, you can get it on our Facebook page, too. And don't forget . . . financing is available.)