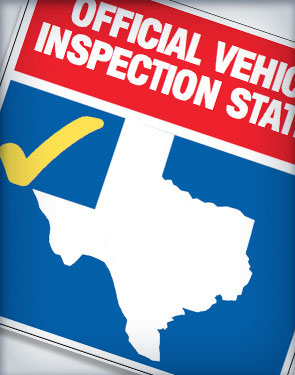 We are an official Texas State Inspection Facility and an official Texas Emissions Testing Facility.
We are an approved facility in the AirCheckTexas program and can diagnose and fix all problems on-site.  Click here for more information on Texas' vehicle inspection program.
With the new Texas Two-Step Program, you will need to have your vehicle inspected prior to obtaining the proper vehicle registration renewal.
What Gets Checked During an Inspection?
Check for evidence of Financial Responsibility
Horn
Windshield Wipers
Mirror
Steering
Seat Belts
Brakes (system) (Parking – beginning with 1960 models)
Tires
Wheel Assembly
Exhaust System
Exhaust Emission System (beginning with 1968 models)
Beam Indicator (beginning with 1948 models)
Tail Lamps (2); (1) if 1959 model or earlier
Stop Lamps (2); (1) if 1959 model or earlier
License Plate Lamp (1)
Rear Red Reflectors (2)
Turn Signal Lamps (beginning with 1960 models)
Head Lamps (2)
Motor, Serial, or Vehicle Identification Number
1988 & newer – inspect for window tinting or coating
Gas caps on vehicles 2-24 model years old.

We are conveniently open:
Mon – Fri 7:30 a.m. – 5:30 p.m.
Our service writers are eager to help, so call or click to make an appointment:
817-485-7340

Servicing all of Tarrant County!
NRH, Watauga, Keller, Southlake, Mid-Cities

Call us today:
817-485-7340
Address:
5913 Denton Hwy
Watauga, TX 76148
Hours of Operation:
7:30am - 5:30pm
Monday - Friday