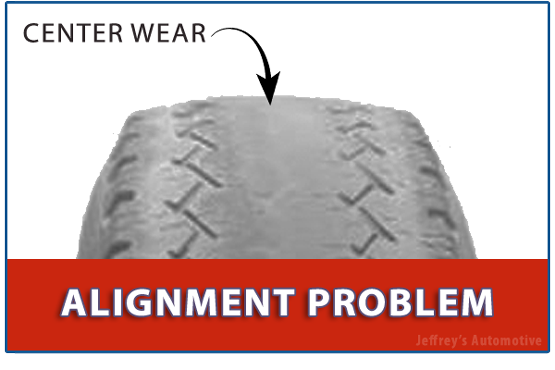 In a post last month, we answered the question "Why Does My Car Need An Alignment?".  In today's post, we will continue looking at the problems and subsequent solutions when you see uneven tire wear.
In the photo above, you'll notice that the tire has obvious CENTER WEAR. The problem could be cause by:
Running tires over-inflated (under-inflation results in outside wear)
Overloading the vehicle
Possible combination of camber and toe problems
Improper tire and wheel fitment
The solution for tires with center wear?
Check tire pressure weekly
Total 4-wheel alignment
Check loading of your vehicle
Rotate tires at regular intervals
Christine Slaton offered the testimonial below about some work we did with her tires (click image below to enlarge):

Safety is our #1 priority for you and your family – so if your car or truck is needing an alignment, we can fix it!
While most of our customers don't know the difference in the types of equipment a mechanic uses to fix their car, we do! Unlike other automotive repair shops in the area, Jeffrey's employs two Hunter 811 Laser Wheel Alignment Systems on site ensuring our customers a precision alignment. If you are comparing mechanics in Keller, Fort Worth, North Richland Hills, Watauga or any of the surrounding areas, be sure and compare the equipment they use and the state-of-the-art equipment we employ. It will positively make a difference in the quality of your wheel alignment!
At Jeffrey's, we can help you eliminate the worry when it comes to your suspension system. Our technicians use the latest technology and equipment to help your vehicle run smooth and safe!