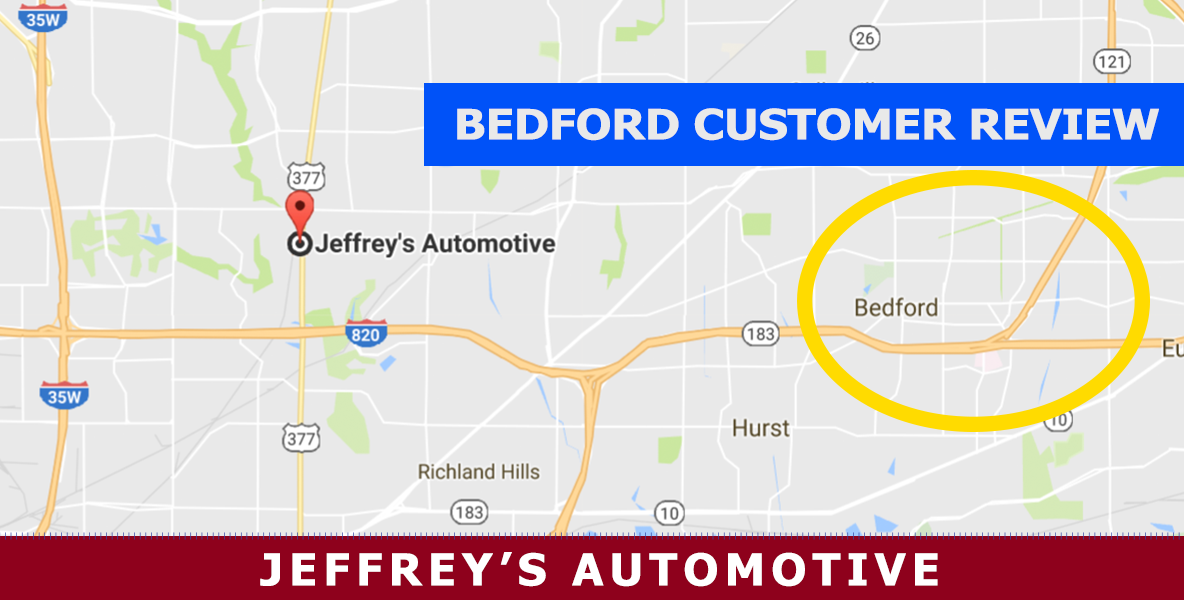 Recently in June, we had a customer, Kimberly Miller, who raved about the "120% service" she received at Jeffrey's Automotive.
CLICK TO READ KIMBERLY'S FULL REVIEW HERE
In July, a long-time customer, Marsha Randolph, shared her experience about using AND recommending Jeffreys:
"We have enjoyed the efficient and trusted service we've received at Jeffrey's for many years. We have and will continue to recommend their business to family and friends."
Over the years, we have had numerous customers from Bedford and surrounding communities like Hurst, Euless and North Richland Hills. We are humbled that families would bypass a number of mechanic shops to have their cars and trucks serviced at our shop. We know there's a brake shop or oil change or alignment facility seemingly on every corner, so we appreciate so much the extra miles people drive to see us.
CLICK TO READ ABOUT OTHER BEDFORD CUSTOMERS' REVIEWS
If you are in the Bedford area looking for a mechanic, please call us or click the link below to schedule your appointment today.
CALL: 817-485-7340