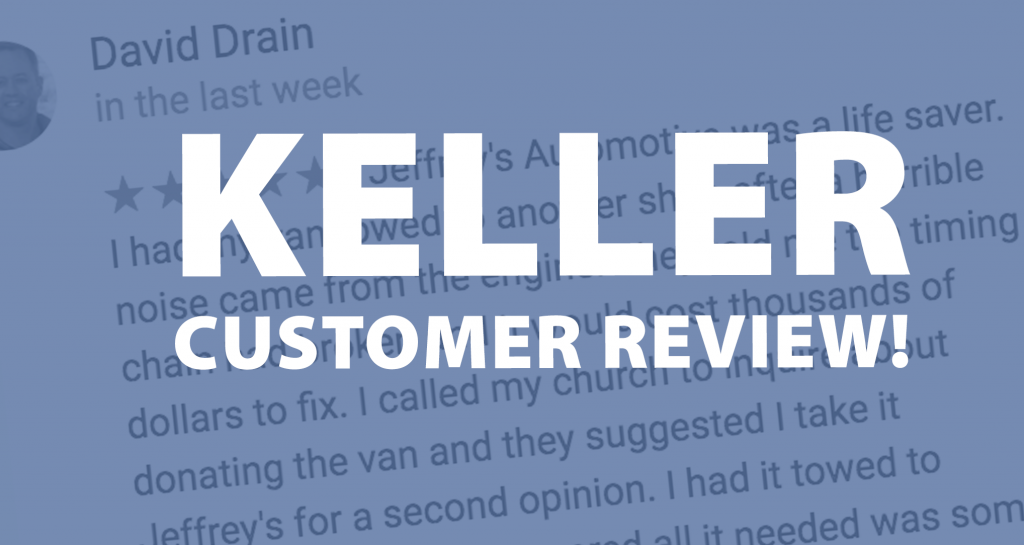 Over the years, there have been thousands of customers from Watauga, Roanoke, Southlake, greater Fort Worth and North Richland Hills. As well, with our close proximity to Keller, we have attracted thousands of Keller customers as well.
David was in a bind recently and was considering having to let go of his van because of an estimate he received elsewhere. After contacting his church, they recommended Jeffrey's Automotive. David shared this experience on a recent Google review:
"Jeffrey's Automotive was a life saver. I had my van towed to another shop after a horrible noise came from the engine. They told me the timing chain had broken and it would cost thousands of dollars to fix . . . . I had it towed to Jeffrey's and they discovered all it needed was some lubricant and an oil change. So $40 vs. $4,000. These are great, trustworthy folks!"
We are thankful David gave us the opportunity to help him get back on the road safely!
Here are other articles featuring recent Keller customers (click each to read the full review):
Thousands of customer reviews have helped other customers find Jeffrey's Automotive.
Call 817-485-7340 or click below for an appointment: