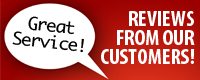 Customer Reviews in 2012

Everett Thorpe Jr., 12/26/12, Fort Worth, via Demand Force
The surprise came when I left the Office and drove home. I could tell a significant change in how much better my car ran. Thanks for all you did. I'm always impressed by how all the people in the Office do their Job. You will always be my first choice for all my Automotive Needs…couldn't have been better.
David and Vicki Kays, 12/22/12, Haltom City, via Demand Force
service was reat and cost was fair… thank you for making the repairs and getting the vehicle back to me so fast
Kevin Joy, 12/21/12, Keller
This facility has the best customer service! The employees are ALL friendly! From 1 to 10, I give them a 15 on their service – it's excellent! Customer service and price set them apart from other automotive shops.
Donnie Carpenter, 12/20/12, Watauga, via Demand Force
I scheduled an appointment for a routine service period. They were ready for the car and promptly completed the work.
Taron Armour, 12/19/20, Watauga, via Demand Force
Great job. Service manager Kevin let me know what was needed and also made suggestions on some other minor repairs.
Roger Hollar, 12/19/12, North Richland Hills, via Demand Force
You guys are always awesome.
Carolyn Hawke, 12/19/12, Fort Worth, via Demand Force
thanks for your help. I was so glad that one lone front desk tech was there when I had to turn around because of the engine light. Your guys are always pleasant and helpful. I'm so glad to have my car back. We'll be in again
Sonia Dilena, 12/19/12, Colleyville

The employees were dressed appropriately, very pleasant and the place was very clean.  The employees were very cordial with a smile when I walked in. They examined the car, told me the problem and the price. They were honest and I was happy…I would recommend friends to visit you.
Alan Zand, 12/18/12, Fort Worth, via Demand Force
I usually take my car to the dealership for service and when I was getting the tires checked on my VW Passat at Discount Tire prior to an impromptu trip I was told that I needed an alignment and should take care of it before the trip, they recommended Jeffrey's Automotive Repair, I was a bit hesitant to take the car to a non-dealer service shop because of past experience but since I was in hurry and didn't have time to go to the dealership and possibly leave the vehicle there for a while I decided to give Jeffrey's Automotive Repair a try. I was pleasantly surprised at their friendly and professional service. They completed the alignment while I waited and of course the price was just right. What I really liked about them was that they didn't try to sell me on other services that I probably didn't need. I recommend them highly and plan on going back to them next time I need service on either of my 2 VWs.
Jim Glass, 12/15/12, Fort Worth, via Demand Force
Took my 97 Dodge truck in for an alignment and their mechanic called me back to the shop to show me extensive wear in my ball joints, pitman arm and idler arm. I actually was expecting them to find something wrong because of how fast my tires had worn since their last replacement. They said they could make the repairs and have it ready later in the afternoon. I told them to go ahead but that I was stuck there and would have to wait. They then said he would put 2 guys on it. I was out by noon and I immediately drove to Austin. Felt great.
Marilyn Owen, 12/14/12, Keller, via Demand Force
The whole experience was excellent!
James Taylor, 12/14/12, Fort Worth, via Demand Force
very good service. was in and have used Jefferies for many years and they have always been friendly, honest and trustworthy. they never tried to offer repairs that did not need to be done. they like to work with people that are not up to date on cars and help them get just what is needed and repaired, with recommendations of future repairs…
Mary Turley, 12/12/12, Fort Worth, via Demand Force
The work was done rapidly & efficiently. The personnel were courteous & professional, no loud &/or boisterous language. The environment was clean & comfortable for a family experience. The bill was in line with that of other reputable automotive repair places. I recommend Jeffrey's Automotive for your service.
Adriana Alzate, 12/9/12, Keller, via Demand Force
It was a very nice experience and a pleasure to know your will to respond to God for your duty. May the Lord continue to bless you.
Mike Thomas, 12/8/12, North Richland Hills, via Demand Force
Excellent and professional
Barbara Maberry, 12/7/12, Fort Worth, via Demand Force
Jeffrey's Automotive has great customer service…so personalized. They take the extra time to find a used part, if appropriate. They are so fair and ethical.
Carlos Rios, 12/6/12, Keller, via Demand Force
EXCELLENT PERSONALIZED TREATMENT FROM EVERYONE IN THE OFFICE, AND A GREAT SERVICE FOR THE PRICE, I AM DEFINITELY A REPEATER WITH THEM. I HIGHLY RECOMMEND THEIR SERVICE, AND FOR JEFFREY S GUYS PLEASE DON'T CHANGE ANYTHING, KEEP IT AS IT IS.
David McDonald, 12/6/12, Fort Worth, via Demand Force
Service was great! I am always impressed with the customer service provided.
Langan Delmar, 12/5/12, Keller, via Demand Force
reliable and honest service
Dave and Lizzie Baker, 12/5, 12, Keller, via Demand Force
I give full marks to Kevin and his team of guys, this service is excellent and love that we can book on-line also. I would highly recommend this company to anyone needing car maintenance .
Mark Nyland, 12/3/12, Keller, via Demand Force
Great experience, Caring Personnel and a fair price
Gary Chapman, 12/2/12, Haslet, via Demand Force
Quality takes a little time

A state inspection and oil change takes a little longer at Jeffrey's. But they can resolve any issue that surfaces in a timely manner and at a fair price. If time allows, skip the quickie places and go for quality work. Jeffrey's business model provides dealership level service and quality at neighborhood garage prices. The only improvement I could suggest is free WiFi in the waiting room.
Michael and Bonnie Brookshire, 11/28/12, Keller, via Demand Force
The guys at Jeffrey's are fast, efficient, honest and are the only ones we trust to do work on either of our vehicles. Kevin is our official "car guy". Thanks, Kevin!!
Ben and Tammy Fragano, 11/21/12, Keller via Demand Force
Excellent communication and prompt attention

Kevin did an excellent job letting me know the options for repair. Although I opted not to have my vehicle serviced I plan to visit this shop for future needs.
Scott McGarrah, 11/21/12, Fort Worth, via Demand Force
Recent service on 95 Lincoln town car

I truly appreciate your staff for giving my son, who brought the car in, the same honest, professional, and courteous service that I always receive. I will recommend your facility to anyone! Thanks
Casey Vetter, 11/21/12, Keller, via Demand Force
A service center you can trust

Jefferys Automotive has continually impressed me with their honesty and excellent service. This is the first service center that I have ever trusted enough to send my wife alone and know she is getting treated fairly by professionals who really care. Jefferys has earned all of my business and I will be a long time faithful customer.
Taylor Rojas, 11/20/21, Watagua, via Demand Force
family member hit a curb and ruined transmission pan

They replaced the transmission pan, filter, gasket and oil for a reasonable price and did great work. No leaking and shifts better than when we bought it 2 years ago.
Chuck Derouen, 11/20/12, Hurst, via Demand Force
Great service done as promised

Being a master gm tech for 45+ years I Now have turned the repairs over to Jeffreys. I can now give full trust to them repairing my truck. These guys are great and honest. Thanx Kelly.
Jason Ard, 11/16/12, Keller, via Demand Force
In this world there are only a few….

service oriented companies that seem to be trustworthy and actually provide a level of excellence. Jeffery's has earned their reputation as a legitimate auto shop due to their commitment to honesty, integrity and transparency.
Todd Ward, 11/16/12, Haslet, via Demand Force
Just great honest service

Many thanks to all. I appreciate the honesty and quality of work.
Nick Allison, 11/09/12, Haslet, via Demand Force
Always a happy customer…

I am always happy with the service I receive when I go to Jeffrey's Automotive. Always greeted when I go inside. Been a longtime customer, since summer of 2005 when I returned home from military service.
Archie Johnson, 11/05/12, North Richland Hills, via Demand Force
Oil Change – Tire Rotation

Very friendly fast service. Work was completed in time frame. Service agent polite and friendly. Informed me that I would need to get a brake job soon, but was not pushy. I trust Jeffery's on all my auto work. I am happy to recommend Jeffery's to anyone needing a good honest repair shop.
Charles and Sherri Lewis, 11/04/12, Fort Worth, via Demand Force
Great job once again!

Really love the quality of work I get at Jeffrey's Automotive, repairs done right and quickly. The Belt Tensioner is finally quite again. Thank you Charles
Michael Wilkinson, 11/03/12, Fort Worth, via Demand Force
Fast and Professional Service

After making my appointment online, I arrived at 7:30am and my car was immediately taken back for repair. Someone gave me a diagnosis and estimate after about 45minutes. And within about 1hour after that you had obtained a new brake booster from another store, installed it, and bled the brakes. I commend you for the fast and professional service I received. And I will recommend you to my friends who need the same. Thanks and blessings.
Melinda Hall, 11/03/12, Fort Worth, via Demand Force
Great Service!

The staff is very nice,helpful and honest. They do a great job:)
Scott Garrett, 11/02/12, Fort Worth, via Demand Force
Helpful and Polite!

I took my truck in for an alignment but the mechanic found problems with ball joints as well. Instead of ignoring this, they showed me the problems in person and explained exactly what they could do to fix it. While the price was higher than I expected, the work was done quickly and my truck is safer now than it's been in years. Everyone at Jeffrey's was very helpful and polite and I will return next time I need service.
V E Logan, 11/01/12, Newark, via Google+
Excellent- Kevin was very nice to work with. They worked on my check engine light, brakes and alignment. So glad I went. I don't live close but definitely worth the drive. It was a clean place which you don't always find in car repair shops. Christian music playing while you wait.
Tracie Gates, 10/31/12, Keller, via Demand Force
Satisfied Customer

The team at Jeffrey's always takes good care of me when I bring my car in. Jerry especially always make me feel confident that my car will be taken care of in a timely and efficient manner
Julio Flores, 10/26/12, Watauga, via Demand Force
I had done state inspection for two cars and Jerry did a great job!!!!
Anonymous, 10/17/12, via Demand Force
Service on Van

I found the service quite good and the people there very polite. I appreciate Danny giving me a ride home.
Dennis Zickefoose, 10/10/12, Fort Worth, via Jeffrey's Automotive website
Just a note to say thank You for great service! I have been in several times and each time I am treated with the highest respect and kindness. Thats rare in today's market. I will always come back because you have shown me that you truly care about the people you service. Again thank you for a job well done and for standing up with the highest integrity
Bradley Burnette, 10/10/12, Haltom City, via Demand Force
The Truth

They are honest, caring and good people.They do what their work professionally and will do what they can to help and will always give the most logical advice.I absolutely trust them and will drive out of town if I had to.It is very hard to find a good shop and this business is awesome.If you get screwed over by going somewhere else and you have read this then I will go ahead and say "Ha,Ha…Told you so.".
Jordan Obrien, 10/07/12, Bedford, via Demand Force
Great Service!

Great Service! Great Service! Great Service!
Anonymous, 10/02/12, via Demand Force
I have been to Jeffreys for a number of services now. They are good honest people and will even educate you on what they are doing to your vehicle. As a business owner myself, it's very important to educate your clients because it puts the knowledge and power in their hands. I have never felt confident that I knew enough to take proper care of my car. Thankfully with Jeffrey's Automotive Repair I now feel confident I can do what needs to be done and I know my vehicle is in honest knowledgeable hands when I take it there.
Gayla Horner, 10/01/12, Watagua, via Angie's List
They've provided all kinds of auto service, including front-end alignments, oil changes, suspension work, breaks, and air conditioning.

The service has gone very well overall. Their customer service is exceptional; they don't try to do unnecessary repairs, get you in quickly as they can, and tell you what they think needs to be done. Their price is competitive and I'd highly recommend them!
Cheryl Shultz, 10/01/12, Keller, via Angie's List
They've replaced transmissions, worked on brakes, etc. Usually when something breaks down, we take it to them.

The service has been good overall! We like them very much. They've been honest and reliable. If we've taken something that needs to be repaired and we feel that they might've overlooked something, they're quick to fix it. They really want the customer to be happy, and they've been our repair shop of choice for approximately 15 years!
Dari Neisler, 10/01/12, North Richland Hills, via Customer Lobby
Good, honest people

The last time I was at Jeffrey's I had a broken motor mount, they fixed it up. I've been going to them for probably 5+ years. I think they're good, honest people.
Karin Krause, 09/30/12, North Richland Hills, via Demand Force
Volvo 50-2006

Thank you for taking good care of me once more! I have complete trust and confidence in you and never hesitate to recommend you to all my friends. And it means a lot how you completed the job so quickly!!!!
Charlie Neal, 09/30/12, Fort Worth, Via Demand Force
Oil change

was amazed that the time was much less than I have had to wait for previous oil changes. I have my NEW trusty Automotive Center! Thanks Guys for an outstanding job!
Raynetta McGarrah, 9/27/12, Fort Worth, via Angie's List
We've started using them for almost all of our automotive services. Recently we've taken three vehicles to them, all different kinds.

The service has been excellent overall! They're very professional, nice, prompt, and we have found that their estimates come in about or less than other estimates from mechanics in the past. We haven't had any difficulties or problems with Jeffrey's. They're 100% accurate on their diagnostics, too. I feel that they're very reasonable, too. I had an a/c problem with my Tahoe: one of the vents' motors was going out, and another mechanic estimated it to be $700, but Jeffrey's quote was $503. I feel confident that if I were to have the job done, that they'd be able to get it done quickly. We've really enjoyed using them!
Dennis Cain, 9/27/12, Fort Worth, via Angie's List
My son goes to him for auto service, including oil changes. I've also had my car worked on by them, too, and I've been very happy with their work.

Overall, the experience has been good. It seems as though he's pleased, and he's even recommended this mechanic to me, and I'm his mother! Both of us trust them, no matter what the cost is. I also trust that the repair they say needs to be done is the repair that needs to be done. They're very honest!
Patti Dotson, 09/25/12, Haltom City, via Demand Force
Positive Experience

They were very courteous and friendly. They did a thorough check of my car and explained everything clearly without being pushy. I never got the feeling they were anything but honest and straightforward. I will definitely go back!
Sheila Dean, 09/23/12, Colleyville, via Demand Force
Was very pleased with the service on my auto for front end alignment
David Kays, 09/22/12, Haltom City, via Demand Force
repairs for 2002 F150 super crew

Kevin kept me informed of the progress on my vehicle and did only the work that was authorized. The price was very reasonable and my vehicle was ready in one day. I will return when I need anything else done on any of my vehicles.
Craig Altrock, 09/20/12, Fort Worth, via Demand Force
replaced headlight

did a great job replacing our headlight. Cost was reasonable and it was much easier for Jeffrey's to do than for us!
Anissa Martin-Yeh, 09/19/12, Watauga, via Demand Force
AC Repair

Friendly, Fast and job well done
Jeramie Andrews, 09/18/12, Watauga, via Demand Force
Troop Support

Very friendly and responsive. Nice to know that some businesses still understand that troops overseas still need customer service at home. Thank you guys – SGT Andrews – US Army
Ron and Deborah Mercer, 09/14/12, via Demand Force
Great service!

Always appreciate the friendly and excellent service at Jeffrey's.
Lea Williams, 09/11/12, via Demand Force
wheel alignment

I needed a wheel alignment and Discount Tires recommended Jeffrey's. I went in without an appointment and was helped right away. The waiting area was clean and everyone was polite and very helpful. I will definitely go back when I need work done.
Heidi Hall, 09/10/12, via Facebook
Thanks to the crew for repairing my Mazda 5 at 2/3 of the cost of the Mazada Dealer's quote! When I picked it up, it was like a new car, and three weeks later it still is!
Anonymous, 09/08/12, via Demand Force
Wheel Alignment

Fast and great service. I was in and out in an hour.
Jimmy Greger, 09/08/12, Fort Worth, via Demand Force
They are the best group of guys around. I would recommend them to anyone!!!
Scott Kilmer, 08/31/12, Abilene, via Google+
Incredible service – Very fair prices. Our car died on the side of I-35W while on a family trip. What could have been a nightmare was totally covered by Jeffrey's team. Their frontline staff got the car picked up and back to their shop while they made sure we had a way to continue the trip. They assured us the car would be in a safe place during and after the repair until we returned. I could not ask for a better experience. I only wish I could find as good of a garage in my hometown!
Gerald Gibson, 08/31/12, Fort Worth, via Demand Force
The work was done quickly. I barely had time to read one chapter of my book.
Christine Slaton, 08/31/12, Fort Worth, via Demand Force
You were quick to repair problem. Thanks
Jo- Len Shumski, 08/27/12, Watauga, Via Customer Lobby
They provide great service

Jeffrey's Auto Repair maintains my car. They literally maintain it. The mechanics are all very good. They let me know if something needs to be done immediately or if it's something I can wait on. They are always courteous and professional. They usually get my car in and out within a day.
Charles Peters, 08/24/12, Euless
This was my first visit to Jeffrey's. Although the buildings were old, I was impressed with the size and numbers of service bays. The office and reception center were very nice. All of the employees seemed to try to insure that my visit, as well as all of the other customers, were pleased with the service. I was surprised and happy with the service I received. I will continue to take my car to Jeffrey's for service and I will recommend them to my friends…the prices were more reasonable than other repair shops I have used.
Dan Jackson, 08/24/12, Watauga, via Demand Force
Great Christian Owned Family Business

Best hopefully unkept secret in Watauga, TX. The owner is a fine christian man and a pillar in our community. The service staff is next to NONE. I have never been steered wrong by them they 100% forthcoming with their information. And on top of all that they have quite fair pricing!! Good luck guys in all you do!!
James Cutbush, 08/15/12, Keller, via Demand Force
Done on time – no issues
Don Rutherford, 08/13/12, Haslet, via Customer Lobby
Quick radiator turnaround

These guys are great, ripped a hole in the radiator of my dodge cummins during a daily trip to the land fill dumping shingles. Called my dodge service dept. and was told 2-3 days. Well I did the same thing back in February, hole thru the radiator at the land fill, 2 1/2 days and 1280.00 it was fixed by the dealership. This time I could not wait 3 days, called Jeffreys, they said get it up here…..well I was cashing out 5 hours later for only 714.00. They did the exact same thing as the dealership did earlier in the year, except faster, cheaper, with all the same exact parts, and a warranty for 2years/24k miles. The dealer gave be 30 days. They have a new customer.
Christine Slaton, 08/11/12, Fort Worth, via Demand Force
Thank you for discovering what the real problem was with my tires. We have been working at finding a resolution for almost 1 year now. thank you so much!
Joan Sibbet, 08/11/12, Fort Worth, via Demand Force
On The Road Again

I was very pleased with my visit to Jeffrey's Automotive. The office help was friendly, and I was provided a ride home while my car was being repaired. Jeffrey's provided great service in a timely and affordable manner. I would highly recommend them for auto repair.
Michael Miller, 08/11/12, Fort Worth, via Demand Force
Exhaust system service

great experience will and already have recommended Jeffrey,s Automotive

Love the new exhaust system , ask Kevin to call me i have questions about some accesorys to install
Bryant Richardson, 08/10/12, Keller, via Yelp
These guys live their values! I've been bringing our multiple vehicles here for service for several years, after being overcharged at a "Christian" auto service business. The Jeffrey's team has always treated us fairly and respectfully (including my wife and daughter).

We've had maintenance and repair work done here on domestic and foreign vehicles, including a new transmission installed, and will keep coming back.

Pros: Courteous, prompt, professional, reasonable.

Cons: It always stinks to have to get your car or truck repaired (but this is the place to get it done).
Randy and Kaitlyn Sachs, 08/08/12, Blue Mound, via Demand Force
Perfect customer service and communication both on phone and by email. Made my daughter feel comfortable in the servicing of her car.
Robert Hargrove, 08/08/12, Keller, via Demand Force
Above and Beyond

This was, once again where the staff at Jefferies went above and beyond what they needed to do. I worked with Danny on my wife's car. Her radio was giving her problems. We did not want to put in a new radio, so Danny helped me find a radio at a recycled auto parts place and then had it put it in for me. He did not have to help me like that, he could of just sent me down the road. This is not the first time Jefferies has helped me out. They helped me teach my son a lesson that I hope will stay with him for life. The cheapest price is not always the best way to go. My son got into a problem with at cheaper repair shop and Jefferies stepped in and dealt with the other shop and then ended up making the repair. It is GREAT to have someone you can trust on your side.
Becky Zickefoose, 08/07/12, Fort Worth, via Demand Force
I have always had excellent service when I have come into your shop. I think what I like the most is the kind and courteous service I see all customers receiving when they come in. My questions have always been handled and I feel like I receive top quality work.
Rose Marie Fasel, 08/03/12, Justin, via Demand Force
They were very pleasant to work with and worked quickly to replair the problem. I have always been extremely satisfied with their service and have never been let down.
Anonymous, 08/03/12, via Demand Force
Took an hour, Andy was very nice and thanked me for my patience. I wasn't in a rush and caught them with a crew of mechanics on lunch break.
Dan Germann, 08/02/12, North Richland Hills, via Demand Force
I appreciated the quick response to getting the Impala inspected and for working on a electrical problem! Thanks, Dan
Mel Hooten, 08/01/12, Haltom City, via Demand Force
Very professional. Truthful and up front with what needed to be done. No hidden fees. I have great confidence in what they did. Courteous; gave me a ride home and picked me up after repair work was done
Kelly Kilpatick, 08/01/12, Fort Worth, via Demand Force
Really Great!

My AC job I had done was great. I am getting my inspection sticker finished today and everything went great yesterday. Great place to have your car repaired.
Tory Schoonmaker, 07/30/12, Keller, via Google+
Fantastic Service. Went in for a 4 wheel alignment and they didn't try to up sale me on anything. They even came back with the diagnostics showing that the vehicle was misaligned, and asked if I still wanted it fixed. It was fairly fast and no problems afterwards. Great Job.
Raul Schwarz, 07/28/12, Fort Worth, via Demand Force
Professional Care

Everybody has heard the story or even experience the horrors of mechanics that take advantage of the customer's lack of technical or mechanical knowledge. When I go to Jeffrey's Automotive repair, I rest assured that business is done in an honorable way. They take care of my car's problems and solve them for me. Every time I've had to bring a vehicle to them, the job's been done to perfection. They cost more than an average mechanic because they are above the average… Simply put, I can continue to use my car without having to buy a new one because they fix it !
Tara Teague, 07/27/12, via Facebook
I have AC in my car courtesy of Jeffrey's Automotive Repair in Watauga. The first estimate from another shop was $1538, the second was $1100 and Jeffrey's found a simple issue and fixed it. The AC fix and state inspection was $40. I am overjoyed and feeling blessed!
Anonymous, 07/25/12, via Demand Force
Good repair shop

Pleasant to deal with and repairs done fixed the problems
Sandra Long, 07/25/12, Bedford, via Demand Force
Conscientious & honest

I have always found the people at Jeffrey's Automotive to be helpful and efficient…
James Henderson, 07/25/12, Fort Worth via Demand Force
Always Great

We have been coming to Jeffery's about 16-17 years now. Never never have had a bad experience.. The guy's are great and Danny is exceptional!! I will NOT take my auto's anywhere else but Jeffery's.. A good ol home growen friendly place to do business.
Robert Achee, 07/25/12, Fort Worth, via Demand Force
Tail Gate Door Lock Repair

Service was quick and professional done. Also took care of Safety Inspection that was due. Most reliable Auto Service Center I have ever used. Jeffery's Auto Repair is always ready to help and meet the needs of their customers.
Norma Blue, 06/27/12, Fort Worth, via Customer Lobby
You can't beat that!

I have spent 27 years working with Jeffrey's Automotive Repair, and I do so because they diagnose the problem, tell me how much it will cost, tell me when it's going to be ready, and they are always right. So you can't beat that.