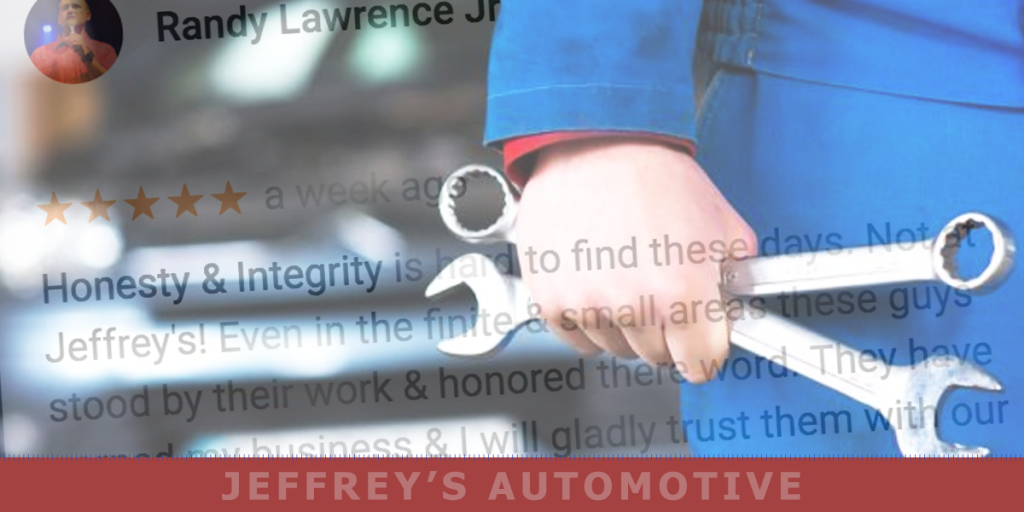 Allen came to us recently and his experience shattered negative myths often associated with mechanics:
"Integrity. Quality. Personal attention. Fair price. No gouging. Best auto technicians around. This is the business that the auto repair business has been missing forever. Jeffrey's Automotive realizes that people want to be treated fairly and honestly, pay a fair price and have a business that stands behind their service. They even cleaned my battery cables and didn't charge me because they saw it needed to be done. Jeffrey's is worth driving further to AND they can do dealer warranty work."
From North Fort Worth, Tilmon G. also offered similar thoughts:
"Coming into a new city this was one of my worries. Finding a reliable mechanic one who is trustworthy, knowledgeable, and fair. I found this with Jeffreys automotive as I've came in several times. Tony is usually the one who helps me and can't say enough positive things about his character and the staffs. Truly recommend this place."
It is not the first time a North Fort Worth customer has shared a similar experience about Jeffrey's:
If you are looking for a trustworthy auto repair shop that is family-owned and family-operated (for over 40 years), please come see us. With over 800 reviews on Google (at the time of this post) and an average of 4.7 out of 5 stars, we hope you will allow the experience of these customers above to influence your decision on which mechanic to choose.
We are located at 5913 Denton Hwy 377 (just south of Western Center/MidCities Blvd) in Watauga, just minutes from Keller, Saginaw, or North Richland Hills. Easy to find and easy to get to. Call ahead: 817-485-7340