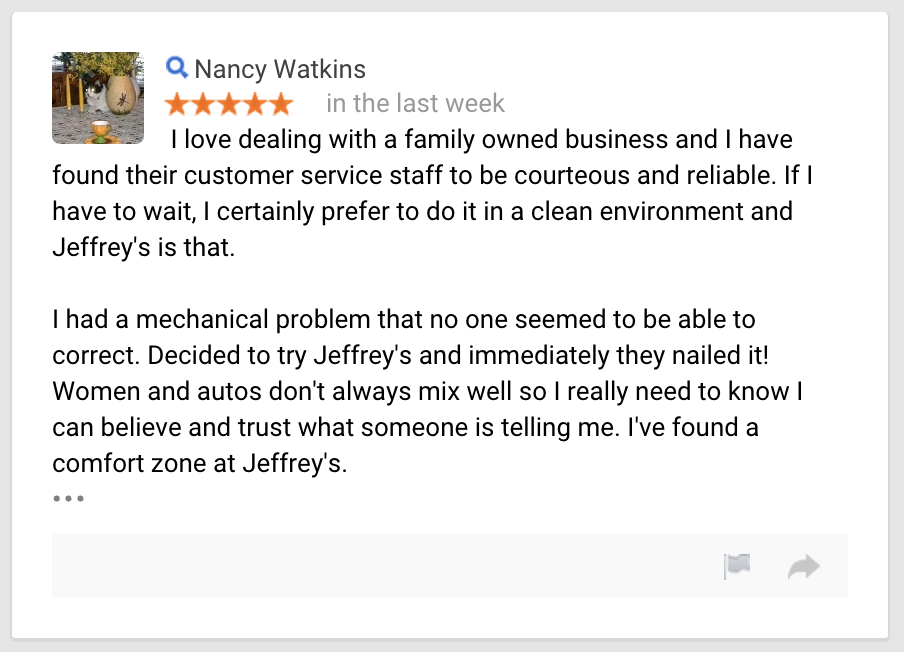 We continue to get solid reviews from customers. Sometimes our customers will talk about our Christian music in the waiting area while others talk about the quality customer service they receive with their brake repair, alignment, or check engine light diagnostics.
We value all of our customers and know that a mechanic is not on everyone's "most popular people to see in my day" list. We know that car repairs can be expensive. And we know that often times, customers will uneasy about talking to a mechanic about their car. So we do our very best to explain things, even show you things on your vehicle by taking you to see "under the hood", and we try our very best to make your experience at Jeffrey's Automotive as positive as possible.
Nancy Watkins recently wrote this review:
"I love dealing with a family owned business and I have found their customer service staff to be courteous and reliable. If I have to wait, I certainly prefer to do it in a clean environment and Jeffrey's is that. I had a mechanical problem that no one seemed to be able to correct. Decided to try Jeffrey's and immediately they nailed it! Women and autos don't always mix well so I really need to know I can believe and trust what someone is telling me. I've found a comfort zone at Jeffrey's."
Can we help you?